STRATEGIC PA NETWORK | FACE TO FACE | THE POWER OF BEING PERSONAL AS A C-SUITE ASSISTANT: HOW TO CONNECT, CONVINCE, AND CREATE EXCEPTIONAL RELATIONSHIPS | HILTON, READING | THURS, 23RD FEB 2023
You are cordially invited to attend Strategic PA Network's FACE TO FACE event at the Hilton, Reading on Thursday, 23rd February 2023 at 6.00pm.
Click HERE to register for this event. If you are already a Strategic PA Network Member you will be automatically sent the session details.
Join Liz Whitaker, Founding Director of Propella as she shares her journey from PA to Founding Director and Author. In a world dominated by commoditised and impersonal communications, Liz will show you how the Power of Personal Toolkit can provide an extra layer of magic in your already existing skillset. Liz will bring examples and encourage you to share your own stories with the group. 
Liz's Amazon bestseller, The Power of Personal – How to Connect, Convince & Create Exceptional Client Relationships will be available to purchase on the evening for just £12.50 (RRP £19.99).
OUR SPEAKER FOR THE EVENING:
Liz Whitaker | Founding Director | Propella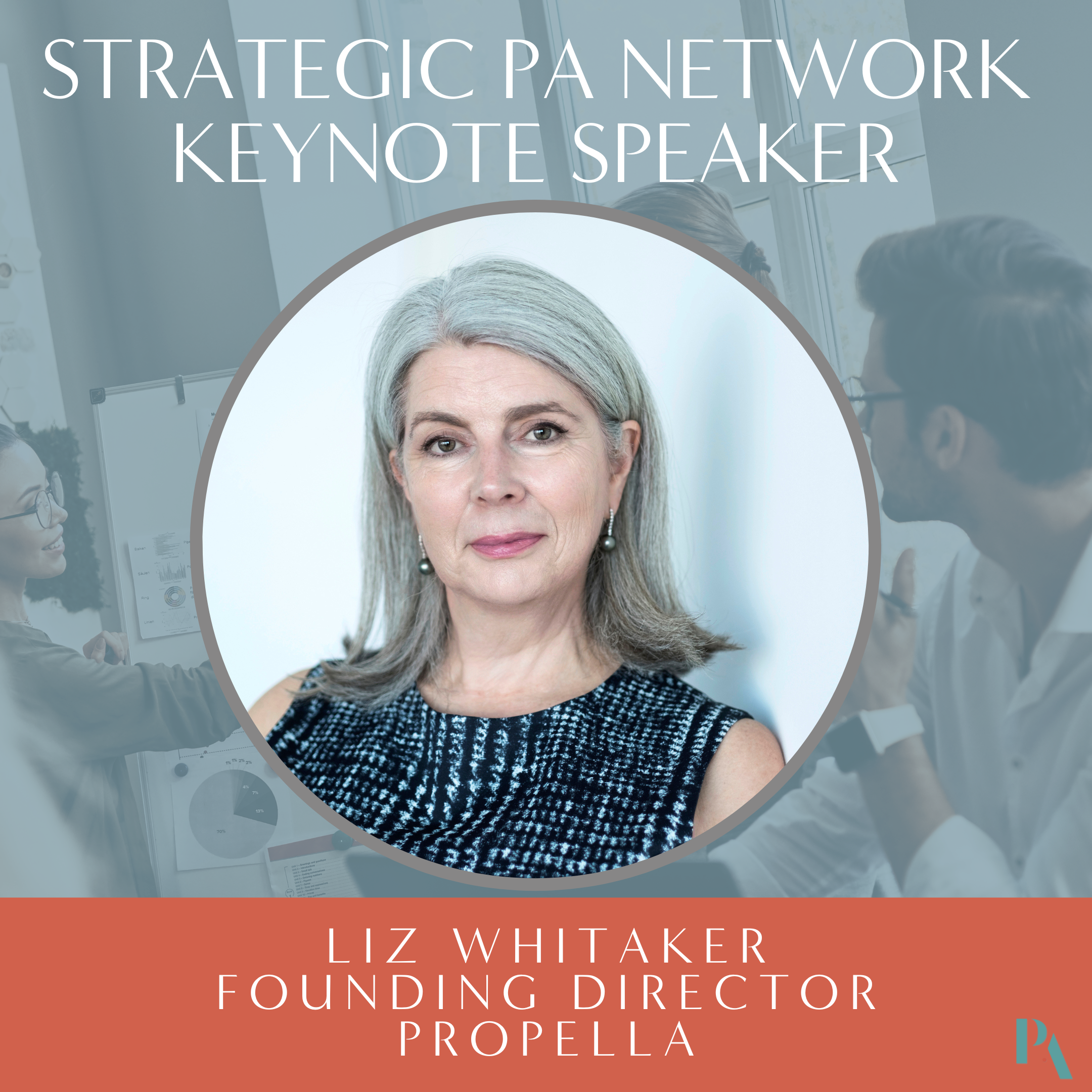 "After 30 years working with B2B organisations showing them how to use communications to a) win more business from existing and new clients b) retain and recruit top talent, I've got a pretty good idea of what works (and what doesn't). So I wrote it all down in my Amazon bestseller, The Power of Personal – How to Connect, Convince, and Create Exceptional Client Relationships (47 five-star reviews and regularly in the top ten for marketing/sales and customer service). But I started my career as a PA (it was so long ago and not many people know this!) working in an independent television company. What I learned about people, processes and strategy in that time has served me brilliantly throughout my career.
Everything I do is based on the fact that people buy from people, always have and always will. They also work for people, vote for people, donate to people and get behind people. My unique methodology works brilliantly, every time, for marketing, business development, leadership communications, internal communications, human resources, and career development. My work is delivered through keynote presentations, facilitated workshops, coaching and consultancy."
EVENT THEME – THE POWER OF BEING PERSONAL AS A C-SUITE ASSISTANT: HOW TO CONNECT, CONVINCE, AND CREATE EXCEPTIONAL RELATIONSHIPS:
In this session Liz will cover:
Acknowledging your extraordinary power and influence as an EA

 

Discovering your own Power of Personal skills, recognising how rare these are and adding to them

 

Using the Power of Personal to accelerate your career progression and/or improve your EA performance

 

Increasing your personal and professional value (including top tips which you can start using now)

 
We will finish with a Q&A. Please come prepared to share any live challenges for discussion in the group. 
EVENT FORMAT:
6.00pm to 6.45pm – Informal Networking and Hilton, Reading Show Rounds
6.45pm to 6.50pm – Welcome & Introductions – Sarah Howson and Marianne Whitlock, Strategic PA Network
6.50pm to 7.00pm – Hotel Welcome – Natalie Ramsey
7.00pm to 7.30pm – Our Keynote: Liz Whitaker
7.30pm – Interactive Q&A
8.45pm to 9.00pm – Informal Networking
9.00pm – Carriages
ABOUT THE NETWORK:
Strategic PA Network formally known as Bucks, Berks and Oxon PA Network (BBO PA Network) is an active professional networking group for Personal Assistants, Executive Assistants, Virtual Assistants, Administrators and Office Managers who work or live in or around the Bucks, Berks & Oxon area. We are not county specific; anyone is welcome to attend! It's about bringing together a community of Assistants where learning is at the heart of what we do. We are an all-inclusive network, who empowers each other, lifts each other up and supports each other. If you are interested in becoming a member contact our friendly team on hello@strategicpanetwork.com.