ONLINE POWER HOUR EVENT | ENGAGING YOUR LEADER THROUGH YOUR ANNUAL REVIEW: PREPARING & PLANNING FOR YOUR APPRAISAL
You are cordially invited to attend Strategic PA Network's POWER HOUR event on Thurs, 23rd February 2023 at 12:30pm.
Click HERE to register.
Preparing for your performance appraisal can have a lasting affect on your career. Join us with guest speaker, Peter McDonald, Director at HR Dept, Aylesbury and Central Chilterns. Peter will guide you through how to prepare for your appraisal so that you are making sure to meet set expectations, receive and communicate constructive feedback and enhance the overall effectiveness of your appraisal.
We welcome you to note any questions you may have for Peter upon registration for this event.
OUR SPEAKER:
PETER MCDONALD | DIRECTOR | HR DEPT –  AYLESBURY AND CENTRAL CHILTERNS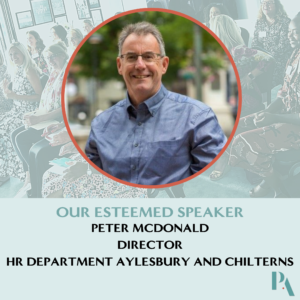 Peter has had global roles with major international corporates and has now brought nearly 30 years of HR expertise to the benefit of local small and medium-sized businesses. He has worked in South Africa, Switzerland and the Middle East before deciding to set up his own business closer to home. The HR Dept Aylesbury and Central Chilterns provides personal outsourced advice and support to local SMEs – director-level services available to all size of business and across all sectors. Whether it's planning new working habits or are required to undertake redundancy programmes, they'll need help to do that. I want to be there to support them. Peter believes business owners are recognising that good HR professionals are business advisers who, particularly for SMEs, can add great value. Especially with the current challenges, companies who manage their employees best – make proactive changes to benefits, people structures and work environments will get the best out of their people at this critical time.
POWER HOUR FORMAT
12:20 pm – Get 'Online' – Log on a bit earlier if you can with your favourite wrap and drink of choice ready to settle in for a 12:30pm prompt start!
12:30pm – Strategic PA Network Directors Sarah Howson and Marianne Whitlock interview Peter McDonald
1:10pm – Q&A
1:30pm – Finish

ABOUT THE NETWORK:
Strategic PA Network formally known as Bucks, Berks and Oxon PA Network (BBO PA Network) is an active professional networking group for Personal Assistants, Executive Assistants, Virtual Assistants, Administrators and Office Managers who work or live in or around the Bucks, Berks & Oxon area. We are not county specific; anyone is welcome to attend! It's about bringing together a community of Assistants where learning is at the heart of what we do. We are an all-inclusive network, who empowers each other, lifts each other up and supports each other.