'On the twelfth week of Christmas my true love gave to me, fa-la-la-la-la-lalala-laah…' Can you believe we've arrived at the start of autumn 2022? The clocks go back this month, and if you work in events, you've no doubt already turned your attention to the festive season ahead!
The last couple of years have been about virtual get-togethers, however with many of us now back in the office or flexi working, it's more important than ever to mark the Christmas season of togetherness, with the best staff party ever… Cue our top five festive entertainment ideas to complement the celebrations!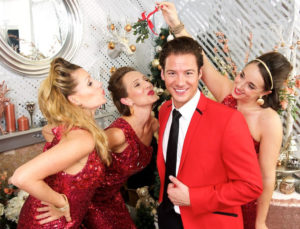 1. SANTA BABIES – Go on, admit it, as soon as you hear a classic Christmas tune, your heart lifts with festive cheer. Music is the key to creating that vibe, and with an energetic, all singing and dancing vintage act like the Santa Babies you have a feast for the eyes and ears, not to mention plenty of interaction to get the kids and adults alike bopping along too!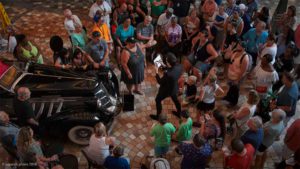 2. CF MAGIC & MINDREADING – Quite literally an international man of mystery, Chris performs all over the world blending Dynamo style magic with Derren Brown style mind reading, and is a unique and memorable performer! With the likes of Kanye West, Rhianna and even the Late Queen of England as previous names that he has performed for, Chris also made a cameo in the Hollywood movie 'Now You See Me 2'. A regular aboard cruise ships, and TV, Chris HAS to be seen to be believed!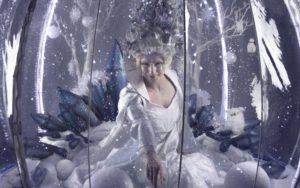 3. LIVING SNOW GLOBE – The Living Snow Globe is the ONLY roaming, special effect filled snow globe in the world. This is the ultimate wow factor for any winter themed event. Not just an inflatable bubble, this is a beautifully detailed winter wonderland scene contained inside a twinkling, illuminated snow globe. And sitting inside is a mystical Snow Queen interacting with her audience, bringing the magical scene to life!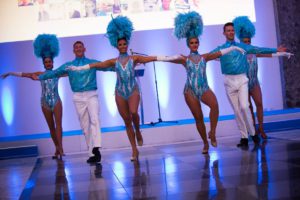 4. BLUEFISH DANCERS – Providing top tier live dancers and aerial performers all over the world; from themed meet & greet, dance shows, flash mob or even workshops, Bluefish have a wide range of styles and themes available, in addition to fully bespoke their offering to suit each client's specific requirements.
5. JONNY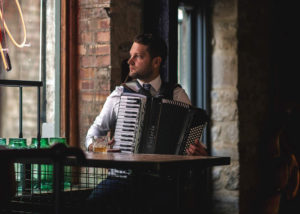 ACCORDION – A British Accordionist, Singer and composer, Jonny plays a range of styles that include Jazz, Gypsy Jazz, Bossa Nova, French Musette, Tango, Classical, and pop. He's played everything from private functions, luxury cruise ships, celebrity parties, to showcase sets at concerts and festivals. His music has travelled the globe online, where he's racked up over a million streams. He's played for companies like Warner Records, Ferrari, and appeared on the BBC drama 'The Peaky Blinders' and 8 out of 10 cats does countdown. A true professional both inside and outside of the studios and venues – Jonny Kerry has become one of the most requested accordion players throughout the UK.
We've found this year, more than ever before, people are getting ahead by booking early. We are here to save you time, money and any stress with organising entertainment for your event so contact us now to chat through your celebration and what you're looking to achieve, and let us recommend the BEST entertainment acts for you! Call us on 0333 355 3619 or email hello@ellevateentertainment.co.uk 
 Ella x