BBO PA Network June event 24.06.21
We were really pleased to welcome Andrew Thorp, Business Speaker, Trainer and Consultant with his keynote 'Owning And Telling Your Story; and Alice Carroll from Hummingbee Works Ltd with her keynote 'Life Gaming'.
We were absolutely delighted to host our online event LIVE the stunning Milton Hill House (The Venues Collection) with Marc Buxey.
MARC BUXEY, MILTON HILL HOUSE HOTEL AND THE VENUES COLLECTION
ABOUT MILTON HILL HOUSE HOTEL: Milton House Hotel is a stylish conference, event, party and wedding venue in Abingdon, Oxfordshire. Surrounded by 22 acres of tranquil parkland just 13 miles from Oxford, Milton Hill House effortlessly blends a graceful Georgian manor house with modern facilities.
ABOUT THE VENUES COLLECTION: The Venues Collection. One Group. Eight Venues. 220 Meeting & Training Rooms. 1,323 Bedrooms. Individual Venues Enjoying the Luxury of Space. Welcome to The Venues Collection, a grouping of eight, easily accessible properties located across the UK. 
ANDREW THORP 'STORYTELLING'
#Storytelling – So many great takeaways from Andrew Thorp.
👍Engaging, really easy to listen to and some brilliant stories… thank you so much Andrew for joining us!
▶ Communicate to create a connection, it's the connection that is powerful
▶ Your story needs 'quality organic ingredients' (thoughts + feelings + experiences = an authentic, honest and open story)
▶ Build your story library!
Andrew Thorp | Owner of MojoLife Ltd| Andrew Thorp LinkedIn | http://www.andrewthorp.co.uk
ALICE CARROLL 'LIFE GAMING'
#Lifegaming & #MentalWealth – Are you playing your best game?
👍 Alice Carroll's question was extremely thought provoking! She took us on a nostalgic journey starting with The Game of Life. Her amazing energy (well… zenergy!) and brilliant advice closed the evening on a super positive note. Thank you so much Alice for joining us this evening!
▶ Remember to play your own game and THRIVE!
▶ Think about your energy… make sure you have enough to play your own game and own it!
▶ Find and play to your OWN superpowers… what are your strengths? Use them!
The quote from Kobe Bryant stood out for us: 'I dare people to be their best selves." as well as Maya Angelou's quote: "I've learned that people will forget what you said, people will forget what you did, but people will never forget how you made them feel."
A reminder that Alice has very kindly offered a prize of a behavioural profile to the "lucky winner!" This will involve completing a 10 minute on-line assessment and then the winner will receive a 1 hour individual zoom coaching session with Alice, where she will share the winners profile with them and will explore its meaning! To be in with a chance of winning, please post on LinkedIn a key takeaway from Alice's keynote, tagging Alice and BBO PA Network in. Entries close Friday 2nd July and a winner will be chosen by Alice shortly after and notified. Good luck!
Alice Carroll | Founder of Hummingbee Works Ltd | Alice Carroll LinkedIn | www.hummingbeeworks.com
The event was really nicely (w)rapped up by our wonderful BBO PA Network Committee Member, Gilly Mulford…
AND THAT'S A BBO (W)RAP!
Hybrid networking at its best
Getting down with the rest
Marianne & Sarah 'Hosting Queens'
With sessions so good they're obscene
Tale telling in the house
Not the sort you tell your spouse
Andrew Thorp is your man
With anecdotes he began
Teaching storytelling skills
With advise that gave you chills
On how to grab and fascinate
Making tales resonate
To create outstanding composition
You must use proposition
Pain, remedy and action (PRO)
Is the only way to go!
Next up was Alice Carroll
Exuding energy by the barrel
#Lifegaming is so frikkin' bad (👍)
OMG the chat went mad
To gain your Mental Wealth
First address your Mental Health
We are all part of the same team
Supporting each other to achieve their dream
So are you playing your best game?
What's your goal, what's your aim?
Is it time for you to reflect?
Use the Hummingbeeworks effect
Choose the life you want to live
Coz time is all you have to give
No regrets, no ifs and buts
Use your head, your heart, your guts
Want a life full of fulfillment
Remember the quote "Who am I to be brilliant?"
No matter what; we got your back
Coz that's where the BBO Network's at.
🖐🎤🔽 💥
 Gilly, we couldn't have put it any better ourselves, thank you so much!
Finally some quotes from the event:
"Thank you BBO PA Network Sarah Howson (she/her) and Marianne Whitlock for such an energetic and inspiring session last night. I definitely loved the quote 'I dare people to be their best selves'. Just imagine what we would be capable of if we all did that 😍" Winnie King, PA to Director General of the House of Commons & BBO PA Network Member
"What a 🔝☑️🖤 evening/ event – result 👏🏻👏🏻" Samina Azam, EA o COO and OVO Energy, Founder Occulus Learning and BBO PA Network Committee Member
"Thank you BBO PA Network (Bucks, Berks & Oxon PA Network) for the inspiring evening! The smiles, energy and enthusiasm were all contagious! :). Some wonderful speakers, some fantastic take-aways for us to keep and practice! #storytelling #lifegaming" Stephanie Robertson, EA and Event Attendee
"Absolutely loved tonight. Great learning, lots of joy, special people 🙏❤👏" Paula Harding, EA and BBO PA Network Member
BBO PA Network House Keeping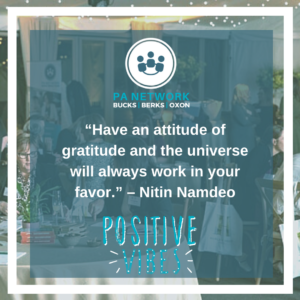 The BBO PA Network membership was launched a few months back to provide a platform for PA/EA/VAs to grow, share contacts and to provide support. If you'd like to know more about our formal membership, please visit HERE.
Do not forget to join our Facebook page. LINK HERE It was set up as a networking tool. So please be an active member, share, tag any opportunities etc…, please don't keep it to yourself if it could help others – be brave and speak up!
If you have any resources to share, interesting articles, blogs, podcasts… do share then with Sarah or Marianne and they'll pop them on the BBO PA Network LinkedIn Page. Make sure you are following HERE.