STRATEGIC PA NETWORK | ONLINE EVENING | THURS, 20TH APRIL 2023 | CHIEF OF STAFF: UNDERSTANDING THE POSITION 
You are cordially invited to attend Strategic PA Network's online evening event in collaboration with The Chief of Staff Association on Thurs, 20th April 2023 at 7.30pm.
Click HERE to register for this event. If you are already a Strategic PA Network Member you will be automatically sent the session details.
Join Strategic PA Network with Euan Godbold, Director of Strategy, along with his curated international panel of Chief of Staff Association members who have made the strategic shift from Executive Assistant to Chief of Staff. The Chief of Staff Association (CSA) is the largest membership organisation for Chiefs of Staff in the world, with members occupying positions of influence in more than 45 countries.
This will be an insightful evening with a chance to understand the Chief of Staff position and what it takes to shift from Executive Assistant. We are welcoming questions in advance to ask the panel. We love how much value comes from these organic discussions and can't wait to hear from you all.
We will be sharing our international Panelists on LinkedIn over the coming month, be sure to follow us HERE.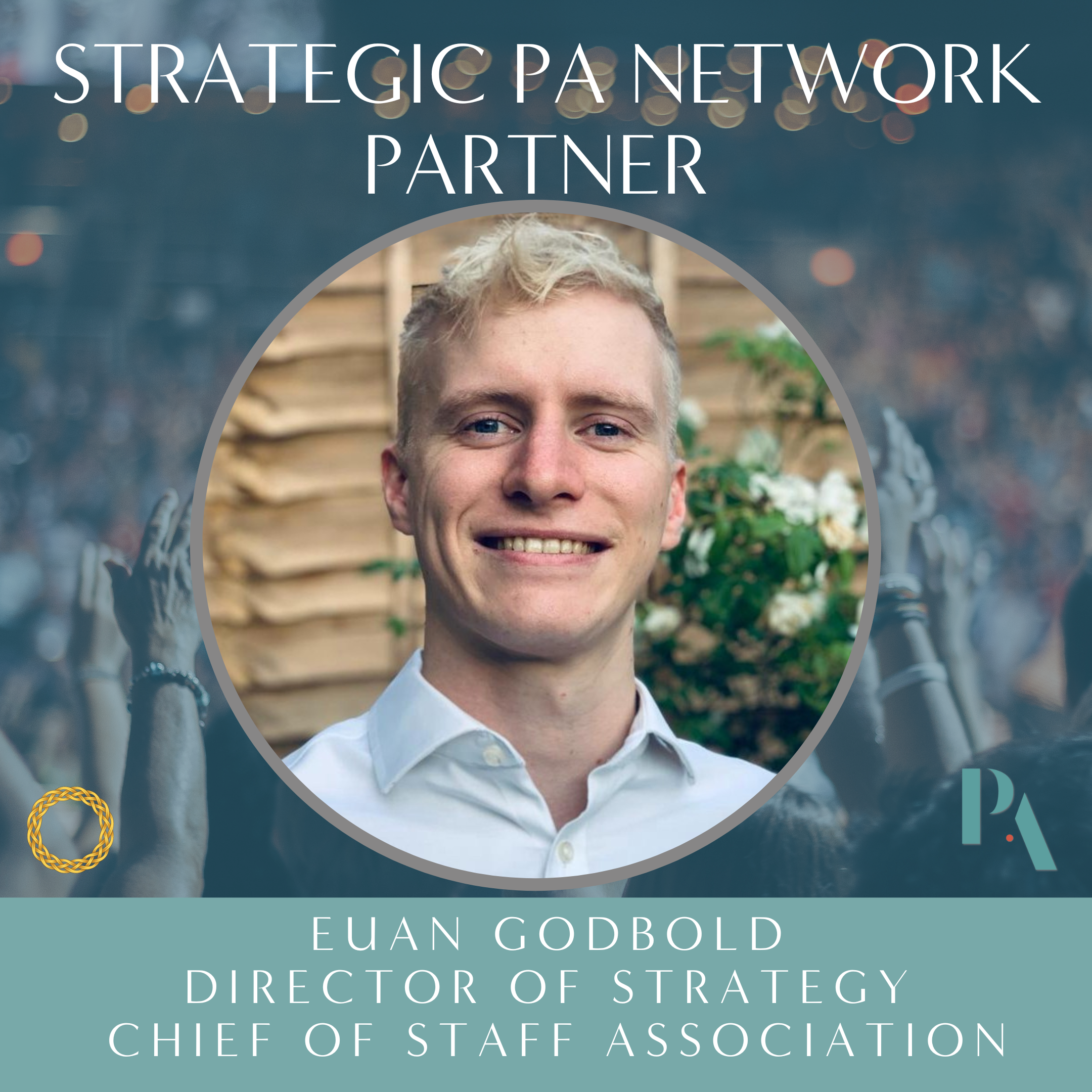 Euan Godbold | Director of Strategy | Chief of Staff Association
After graduating from the University of Cambridge, Euan spent a number of years working in the UK Civil Service before joining the Chief of Staff Association. He is passionate about connecting interesting people around the globe, and developing strategies that have positive and tangible impact in the world.
EVENT FORMAT:
7.25pm: Get 'Online' – Log on and get settled ready for a 7.30pm start, make sure you have your drink of choice in your favourite mug/glass!
7.30pm: Welcome and Introduction by Sarah Howson & Marianne Whitlock, Strategic PA Network
7.40pm – 8.00pm: Introduction to Chief of Staff Association – Euan Godbold
8.00pm: Sarah Howson & Marianne Whitlock lead Q&A and Open Discussion with Chief of Staff Panelists
8.45pm: Finish / 'After Show Catch Up' / Informal Networking – for those who would like to stay on and have a catch up!
ABOUT THE NETWORK:
Strategic PA Network, formally known as Bucks, Berks and Oxon PA Network (BBO PA Network), is an active professional networking group for Personal Assistants, Executive Assistants, Virtual Assistants, Administrators and Office Managers who work or live in or around the Bucks, Berks & Oxon area. We are not county specific; anyone is welcome to attend! It's about bringing together a community of Assistants where learning is at the heart of what we do. We are an all-inclusive network, who empowers each other, lifts each other up and supports each other. 
If you are interested in becoming a Strategic PA Network Member, please get in touch by emailing hello@strategicpanetwork.com – we'd be delighted to help you.