HOW DO YOU WORK WITH YOUR EXECUTIVE: PARTNERSHIPS EXPLORED | STRATEGIC PA NETWORK | ONLINE EVENING | THURS, 19TH JAN 2023
You are cordially invited to attend Strategic PA Network's online evening event on Thurs, 19th January 2023 at 7.30pm
Join Klaus Goeldenbot and Tracey Halsey as they share their story of how they developed their great Executive and Executive Assistant partnership which has evolved into a lifelong friendship. Our Executive Assistant panel will then share their views on what forms a successful strategic partnership with your Executive during our panel discussion and Q&A.
Click HERE to register for this event. If you are already a Strategic PA Network Member you will be automatically sent the session details.
OUR ESTEEMED PANEL:
Klaus Goeldenbot | Chief Executive Officer | NED | TRUSTEE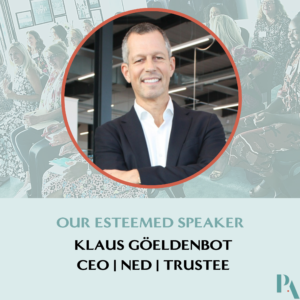 Former Chief Executive Officer of Nisbets and President of RS Components, Klaus has extensive global management and business transformation experience. Throughout his career Klaus Goeldenbot has delivered exceptional business results, achieved profitable growth, built high-performing, multi-disciplinary teams and ensured that businesses are future proofed. In his most recent role as Nisbets' Group Chief Executive Officer (09/17-05/20), Europe's largest B2B supplier of catering equipment, Klaus oversaw a global team of over 2,000 employees, a portfolio of over 25,000 products and a turnover of more than £400 Million worldwide. Business transformation was the key focus for Klaus at Nisbets: Building a clear long term business strategy for the UK and international markets, establishing a high performing senior management team across the group, building market leading digital leadership capabilities and creating a company culture where delivering outstanding customer experience is key and evidenced in market leading Net Promoter scores were some of Klaus' main achievements at Nisbets. Plus the establishment of more resilient core processes and disciplines (such as process re-engineering and simplification, pricing, etc.) which will benefit the business as it comes out of the current Corona Virus Crisis. Klaus is widely recognised as having been at the forefront of true business transformation across a multitude of sectors. As part of the Electrocomponents plc Group Executive Committee he drove strategies to take a former catalogue business into market leadership as a digital B2B player. Klaus is highly motivated by the need for change, and has experience of creating and mobilising large teams to deliver business strategy across multiple geographies. Complexity and high stakes have characterised the challenges he and his teams have faced, and he relishes taking a leading in these circumstances. Klaus has been at the vanguard of key initiatives ranging from the emergence of digital and use of big data through to customer experience, brand management, continuous improvement and preventative maintenance. Klaus is passionate about nurturing his teams, enabling both personal and business growth and is always striving for excellence
Tracey Halsey | Head of Executive Support Newton Europe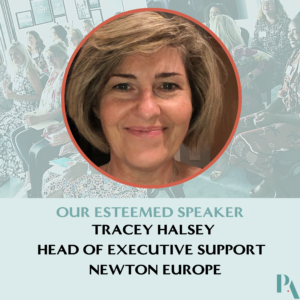 Tracey is currently Head of Executive Support at Newton Europe where she's been working for 5 years and leads a growing team of 40 Executive Assistants and Personal Assistants. Prior to joining Newton Europe, Tracey has 25+ years' experience of being a a Senior Executive Assistant, and European Event Management roles in organisations including RS Group (formerly Electrocomponents), ALTANA Pharma AG and Tektronix.
Lisa Glowacki | Personal Assistant to Chief Executive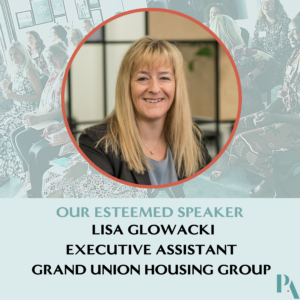 Lisa has worked with Aileen Evans, GCE, for just over 2 years and has been learning and developing her skills since her first role as a Secretarial Assistant in 1995.  Lisa's career initially started in the Education sector and spanned 20 years at The Open University.  After taking redundancy in 2016 and covering a FTC maternity leave in the Housing Sector the desire to get back into Housing led her to Grand Union. Networking has been a very important part of Lisa's development journey, initially mostly in house in person events and attending the annual PA Show.  As technology developed, the power of social media channels, the benefits of COVID and events moving online led Lisa to taking part in BBO Networking Events, which in the past due to work and family commitments had been difficult to attend. Lisa said that she has really benefited from taking a step out of her comfort zone, meeting others and taking part in BBO events. The online events have helped her to understand and develop a new perspective in some subjects and reinforced, that with support, we can all overcome the challenges of a demanding EPA/PA/EA role.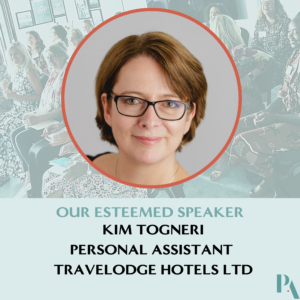 Currently Personal Assistant to the Chief People Officer at Travelodge Hotels Ltd, Kim is a PA/EA with 20+ years experience supporting Board members and Senior Executives within Operations, Finance and IT functions, and more recently and extensively within HR.  An active committee member of the Strategic PA Network, committed to lifelong learning and raising the profile of the PA/EA as a profession of choice.
EVENT FORMAT:
7.25pm: Get 'Online' – Log on and get settled ready for a 7.30pm start, make sure you have your drink of choice in your favourite mug/glass!
7.30pm: Welcome and Introduction by Sarah Howson & Marianne Whitlock, Strategic PA Network
7.40pm – 8.00pm: Executive/Executive Assistant Duo: Klaus Goeldenbot and Tracey Halsey
8.00pm: Strategic PA Network Q&A and Open Discussion
8.45pm: Finish / 'After Show Catch Up' / Informal Networking – for those who would like to stay on and have a catch up!
ABOUT THE NETWORK:
Strategic PA Network formally known as Bucks, Berks and Oxon PA Network (BBO PA Network) is an active professional networking group for Personal Assistants, Executive Assistants, Virtual Assistants, Administrators and Office Managers who work or live in or around the Bucks, Berks & Oxon area. We are not county specific; anyone is welcome to attend! It's about bringing together a community of Assistants where learning is at the heart of what we do. We are an all-inclusive network, who empowers each other, lifts each other up and supports each other. 
If you are interested in becoming a Strategic PA Network Member, please get in touch by emailing hello@bbopanetwork.co.uk – we'd be delighted to help you.