The Compleat Angler in Marlow, Buckinghamshire is situated on the Thames. It's perfect for events, workshops and weddings and we fell in love with the bedrooms in the old house.
Our Ice breakers at this event were Alison Jenkins and Mark Bailey from MeetingsClub, the trusted online review site for bookers of conference, meeting and event venues.
Our key note speaker at this event was Carole Gaskell from the Full Potential Group and was all about getting motivated for 2020 by finding out what drives us! Carole took us through a fun and insightful session to understand what our key drivers are and how to 'ignite our fire from within'.
The Venue
We arrived to a really warm greeting at the Macdonald Compleat Angler with fizz, wine or orange juice. The hotel enjoys a stunning location right next to the River Thames.
General Manager extraordinaire Gavin Webster welcomed us and gave us a hugely entertaining and memorable 'addressing of the haggis', an event in itself, before offering us all a 'not so light' buffet! Gavin also donated some exciting prizes for a business card draw (2 lucky attendees won either afternoon tea or an amazing stay at the hotel with dinner included). Gavin's hospitality was incredible and so very appreciated by all of us!
The hotel has the most amazing views and really makes the most of this with river facing conference rooms (which are really high spec), outside terraces and stunning bedrooms.
The Event
WOW – what an evening! Sarah opened the event, with the gorgeous Maggie McMillan following her, who spoke eloquently about Smart Works Reading, our charity partner. Smart Works are a UK charity that provides high quality interview clothes and interview training to unemployed women in need, harnessing the power of clothes and confidence, to help a woman feel her best at a crucial moment in her life. For those who donated any bags/clothes/toiletries, please know that it is very much appreciated by Maggie and the team at Smart Works! If you, or your organisation are able to help Smart Works Reading please do get in touch with Maggie direct (maggie.mcmillan@smartworks.org.uk).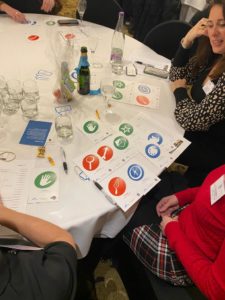 We then had a really enjoyable and fun ice-breaker with Alison Jenkins and Mark Bailey from MeetingsClub involving reviewing champagne/prosecco and toilet rolls!
The main event of the evening followed with Carole Gaskell from the Full Potential Group, who spoke engagingly about our key drivers, what motivates us and why it is just so important to understand them. It was such an inspirational talk and left us all feeling super motivated and energised.
It was so lovely to catch up with people who had been at previous events and also so great to see so many new faces. An event that will be remembered for all the right reasons.