It was an absolute honour to be asked by Lindsay Taylor | Your Excellency Limited!
My 'EA & PA Chataway with Lindsay' podcast episode is now LIVE!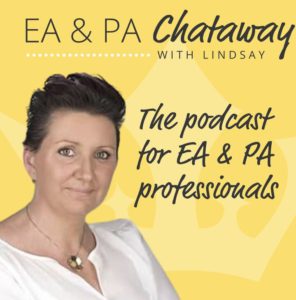 A HUGE thank you to Lindsay for allowing me to share my experiences with you all, I really hope you enjoy listening.
We cover so much ground:
I introduce myself with the letters of name:
S – Strong
A – Adaptable
R – Recognise Others
A – Attention to Detail
H – Humbled
! – 💙
(If you've been to one of Lindsay's training sessions, this will make you smile)
I share and talk about growing up in Florida and my career history to date. I've worked for some incredible CEOs over the years!
I share some of the highlights of running BBO PA Network (Bucks, Berks & Oxon PA Network)– the launch event at Le Manoir aux Quat'Saisons, A Belmond Hotel, our partnership with the incredible charity Smart Works Reading & more recently CSR Accreditation.
I talk about launching Strategic PA Recruitment – SPECIALIST EA/PA AGENCY with my business partner Marianne Whitlock.
As for my 'dinner party guests', you'll have to listen to find out who I'd like to invite along!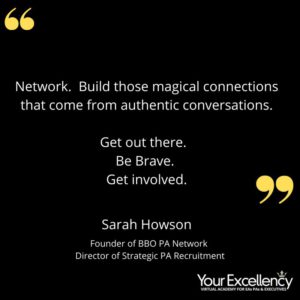 I'd love to hear your feedback, the link to listen is: https://www.yourexcellency.co.uk/podcast/ 
Sarah Howson, Feb 2021