Welcome to our 'March BBO PA Network Event Blog'. Each month the lovely Jacqui Cook (BBO PA Network member and Virtual Assistant, The Real Event) will be blogging for the BBO PA Network about our online events.
This month we had another fabulous line up. Including the one and Lucy Brazier, Matt Culley form Escape Team Events, our panel discussion and much, much, more…
As it was World Book day, what better way to begin the evening than discovering what books our members are engrossed reading, always useful for some inspiration. As you can imagine our network did not disappoint. Books included:
Never Ending Story, The Little Paris Bookshop, The Choice, Time to Think, Monty Don is, The Slap (most bosses could do with it!), The Midnight Library, Persuasion, Where the Crawdads Sing, Islamic Gardens, Untamed, Atomic Habits, A Thousand Splendid Suns, Parenting the New Teen (I feel your pain), A short History of London, The Plantpower Doctor, Spike, Confidence Creator, Reading Traces, Woman in the Window, Red Sister, emails (I know that feeling… yawn…) even a bit of Agatha Christie! Looks like you've all been enjoying a good old read. 
NIB (News in Brief):
International Woman's Day – Next on the agenda was International Woman's Day, this year the theme was  "Choose the Challenge". All of us raised our glasses/mugs with pride to wonderful ladies throughout the World and all their fabulous achievements. Hurrah to us all.
Be Grateful – Next we shared our wins of the month, week, or even the year. Sarah started us all off by admitting she got back on a bike after 18 years. Wowzah… I can tell you now, Sarah's back is NOT amused! As for Marianne, her win was that her knee injury is finally on the mend and so she can start running again – one of her favourite ways to unwind. Our network wins included some strong contenders this month, setting up your own VA business, surviving home schooling, buying a greenhouse and taking up an allotment, passing your 2nd assignment on Level 4 of "Your Excellency", decorating the house and creating office space, receiving a free coaching session to help pitch better (we always love a freebie), 7K on the exercise bike, submitting a business for CSR Accreditation.
Mentorship Programme – The Mentorship programme is developing nicely and Sarah and Marianne are thrilled to be introducing so many Mentors and Mentees to one another.  If you're interested in either becoming a Mentor or Mentee then please get in touch with Sarah or Marianne.
Raise those Funds: You are probably aware that Sarah and Marianne are raise funds for Smart Works Reading (our Charity Partner) but couldn't resist roping in our next guests Matt from "Escape Team Events" to join them.  As mentioned above, they have all dusted off their bicycles, dressed for the occasion in their cycling attire and taken to the streets to ride a staggering 200+ miles! Agreed there has been a few sore limbs lately but what an achievement for such a worthwhile cause. Go team BBOPA! If you'd like to donate please use the following link. SMART WORKS READING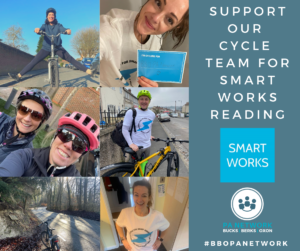 Supplier Partner of the Month – "Escape Team Events"
As we all know in the current climate, digital events are here to stay for some time, so what better way than to make another contact for our little black books.
Matt Cully Escape Team Events – The company first started 7 years ago, in the good old days it was in a physical escape room. The Escape Room's company core values was to provide the best service possible rather than being the biggest provider. Escape Team Events developed later and this side of the business was about creating bespoke escape rooms for venue conferences, large or small.
Although the idea had been discussed, virtual escape events were not thought to be relevant until Covid arrived and the market changed overnight. Over the last 12 months, the company now provides and hosts award winning virtual event games throughout the World.
Matt describes Escape Team Events as the ultimate package, taking the stress out of organising an in-house event for any PA/EA or VA. Not only are the events designed specifically with your company in mind, they can be as flexibly tailored to suit your individual requirements or those of your boss. Matt's moto is simple "Nothing is Impossible!"
If you fancy enjoying first-hand the virtual Escape Room experience then don't forget to join us on Wednesday March 24th to celebrate BBOPA Network's 2nd Birthday! We are super excited! As you have probably guessed to highlight the occasion Matt has arranged a virtual event especially just for us.  The game is called Rogue Agent and we just can't wait to take part. We'd also love you to join us, so please let us know if you can make it by following the link below and signing up. The more the merrier but please do it asap so we can allocate you to a team.
Everyone on the zoom seemed eager to join in and a note was added to many diaries for our Birthday date.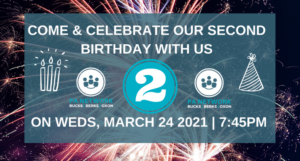 #BBOCSRChampion of the Month
As we know lots of Assistants do some amazing work for charities and they are never celebrated. So we have created our program #BBOCSRChampion of the Month to do just that – celebrate our special network.
This month our winner is Gilly Mulford. Gilly is an extraordinary lady, she is involved in so much from community volunteering, growing veg for her local village to becoming carbon neutral. Wow.
Gilly's real passion is for an amazing focus charity called The Abingdon Bridge, a mental health charity based in Oxfordshire. Having tragically lost her son several years ago, Gilly has been helping the charity raise funds to provide a counselling service for 13-25 year olds. Ollie, Gilly's son had used the service in the past and they had always supported him. Gilly currently sponsors a room in Ollie's name but wishes to raise enough funds for it to become a permanent fixture for the charity.
Gilly introduced Holly, a key worker from The Abingdon Bridge. Holly, a qualified mental health professional, works daily with young people surrounded by darkness and helps them push forward into the light. If you'd like further information or would like to donate to The Abingdon Bridge, please follow this LINK. Thank you.
Gilly is therefore awarded our #BBOCSRChampion of the month.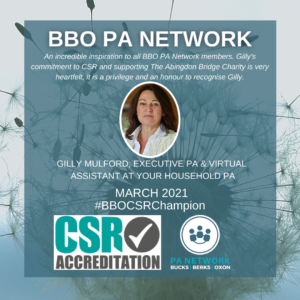 This subject resonated with many of BBO PA Network including our guest speaker Lucy Brazier.
Samina – "Gilly thank you, WONDERFUL charity – sending you my love"
Zeneb – "Sending you love Gilly – you are so strong and an inspiration to us all!"
 Heather – "♥ Gilly"
 Hayley – "You are an inspiration Gilly – I echo everyone's thoughts above, you truly are an inspiration! xx"
Guest Speaker – Lucy Brazier, CEO Marcham Publishing.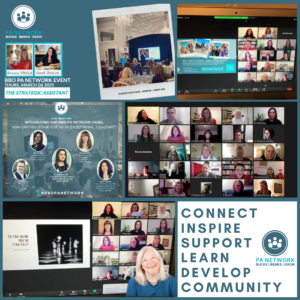 Zooming all the way from Spain, Lucy engaged the network in a flash of an eye, like the true professional she is. This time Lucy shared with us her keynote session "So you think you're strategic? What does that mean?"
Lucy empowered the network, discussed personal development, self-awareness, understanding the business you work for and most of all the importance of communication. Lucy feels, especially during the pandemic that this is the time to step out of your comfort zone and take flight. Your execs are busy trying to keep the company you work for functioning and solvent and it's your job to rise to the occasion and provide the best and most effective support possible. Make your exec see how they cannot survive without your assistance, look at the bigger picture and don't forget to think outside of the box.
Lucy as always provided a truly inspirational and powerful presentation with a wide range of websites and handy tips any assistant would be pleased to have up their sleeves. These included; google alerts, otter.ai, allthingsadmin.com to name a few.
Lucy summed up the current Assistant role during the pandemic, as a unique time in the World where assistants can shine, create their own future, work on themselves and find their VOICE!
Zoom comments from the session were unanimous.  A big thank you to Matthew, Lucy's PA too who, as you'd come to expect from an amazing assistant, was adding comments and contacts to complement Lucy's presentation. More from Matthew later during our panel session.
Sou – "Fantastic tip Lucy, thank you!!"
Samina – "As always in AWE of the great Lucy Brazier and her WISDOM."
Heather – "Thank you so much Lucy and Matt!"
Hayley – "I loved your talk Lucy – you made so much sense and definitely given lots of food for thought! Thank you!"
Nicoleta – "Really made my night! Fantastic tips Lucy, really appreciate, WOW!"
BBO PA Network Panel… Discuss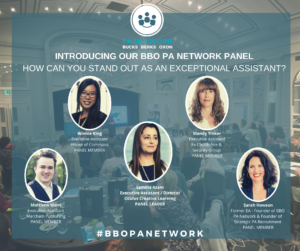 Discussion Panel this month was led by Samina and the subject matter was "How can you stand out as an exceptional assistant?".
The panel also featured Winnie King, Matthew Want, Mandy Tinker and our very own Sarah Howson all discussing the topic in detail as well as giving useful advice in order to stand out from the crowd.
The question and answer session included skills such as listening in to  conversations, really getting to know your boss and their likes and dislikes. As Lucy mentioned previously, thinking outside the box, really understanding what your organisation actually does and not just doing your 9-5pm job.
Winnie also talked about being a leader in your field especially for your Admin Community. Networks are really useful for everyone involved as well as connecting and build relationships. Mandy summed it up perfectly saying you have to be an air traffic controller!
Matthew mentioned that all assistants are exceptional. And finally, Sarah from a recruiters position gave invaluable advice about how to present your CV, and not to forget how important your passion, personality and achievements are to new employers. Sarah ended with a valuable piece of advice – about LinkedIn; be visible and make sure your profile is up to date and relevant.
The team shared real life stories during the evening to provide help and advice to all. Thank you everyone who took an active role and asked interesting and informative questions.
Zoom comments were buzzing.
Tracy – "So important to have PA networks and formal structures to help us collaborate, learn and develop."
Fiona – "My son has just become an EA and these are the things that I have been advising him to do. Get ahead of your boss, … pre-empt, be proactive."
And finally…
Please keep in touch, especially if you find or are aware of any opportunities, Sarah and Marianne want to hear from you.  They are standing by and are on hand to share on all the various BBOPA Network platforms . These can include anything assistant related such as: jobs, podcasts, books, thoughts of the day… the list is endless, so please do not be a stranger. Let's face it, the membership is an amazing network of PAs, EAs and VAs with so many contacts, information, knowledge and skills. So please keep us in the loop as we are much stronger as a group working together.
Final zoom comments summing up March's BBOPA Network Event.
Jules – "Thank you for a lovely evening, I really enjoyed it."
Susan – "A really great session! Thank you to all of the speakers and organisers!"
Lorraine – "Thank you everyone! Great session!"
Matthew – "Thank you everyone, it's been a blast! Excellent job everyone."
BBO PA Network House Keeping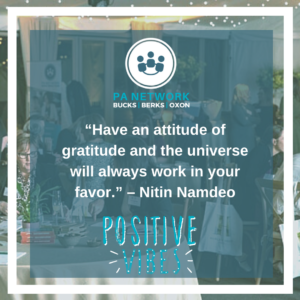 The BBO PA Network membership was launched a few months back to provide a platform for PA/EA/VAs to grow, share contacts and to provide support. If you'd like to know more about our formal membership, please visit HERE.
Do not forget to join our Facebook page. LINK HERE It was set up as a networking tool. So please be an active member, share, tag any opportunities etc…, please don't keep it to yourself if it could help others – be brave and speak up!
If you have any resources to share, interesting articles, blogs, podcasts… do share then with Sarah or Marianne and they'll pop them on the BBO PA Network LinkedIn Page. Make sure you are following HERE.