Take 5 minutes to sit down with a cuppa and read our Q&A with the very talented and extremely lovely Toni Kent…
Toni Kent is an author, comedian, compère and writer who is known for skilfully fusing honesty and humour to tackle tough topics. She doesn't keep it to herself either – she is regularly commissioned to write funny raps, speeches and poems for tech leaders who dare to do things differently.
Having started performing stand up in her late 30s as a mother of two children because, well, why not?, Toni has earned a reputation for being flexible, funny and frequently surprising. Alongside traditional comedy audiences, she performs for corporates and charities, including the SAP Business Women's Network, Adobe & Women Network, Canon EMEA and hundreds of Smart Works Reading supporters at their 'Smart Talks' series of panel conversations where she is the resident host.
When hosting or contributing to events, Toni engages audiences, puts presenters at ease and keeps everything on course using infectious energy and comic timing. Edgier than a traditional compère but always professional, her experiences as a 25 year IT industry 'veteran', working parent and corporate escapee serve as material that audiences relate to.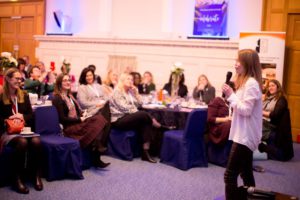 Tell us a little bit about your background? I know you used to be a PA many moons ago, did you enjoy the role? What was your biggest learning?
I started out my working career as a Branch Admin for Reed Employment before becoming the PA for a Regional Director of a freight forwarding firm. I loved the variety of the role and how close it brought me to what was going on at a strategic level. My biggest learning was you should never underestimate how much a PA knows 😉.
You recently delivered a workshop on CHANGE and will be speaking at an event for us in the New Year – can you share with us what you'll be covering?
I'll be sharing a straightforward method that will help you to reframe and embrace change. As someone who's made significant changes at times when other people would have thought it was mad to do it (or impossible), it feels right for these times and has resonated well with audiences so far.
You've officially joined Smart Works Reading as a Partner! What inspired you to do so?
The CSR talk from Richard Collins at your BBO event prompted me to formalise what has been 5 years of working with the charity on an ad-hoc basis. Smart Works Reading aligns to so many of my values and there was a time early in my working life when I would have benefitted from being able to access services like theirs. I know what it's like to lack confidence and to not have enough money for work-appropriate clothing. I also know how one life event can have a significant impact; we are all closer to needing help than we may believe. Smart Works' non-judgemental service and practical approach to helping women into the workplace yields incredible results and I'm proud to support them.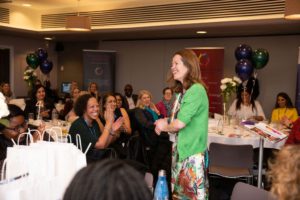 Working in a STEM environment as a woman, a positive or negative experience for you? Who was your role model?
I love it! It's interesting, stimulating and offers lots of scope for people with a whole range of skills – many people don't seem to realise that STEM is not just for techies! Something that I'm particularly proud of being able to do is to helping business leaders in this environment communicate complex ideas with humour and a human touch – I do a fair amount of ghost-writing as well as performing for IT audiences. Rather than a specific role model, there are lots of people who I admire and lots who have supported me in my own career journey. If you've got high integrity, a commitment to help others and a good sense of humour then you get my vote 😊
Your rap at our 1st Birthday Celebration went down really well… have you got any plans for a music career? Just kidding… what's next for you in the world of stand up? What are your best 3 gigs of 2020?
It's funny you should say that as I have written some songs for a local musician (they're not funny though 😉). Currently I've got a raft of bookings for WI groups in the offing who have embraced Zoom faster than you might think. I'm also speaking with a few corporates about providing lunchtime stand up as part of employee wellness programmes. That aside, I've built elements of my stand up into my Change Masterclass which has proved to bring some lightness at a time when we could all really use it.
My top gigs of 2020 were:
SisterSister Arise 2020 for being given absolute free reign in a room full of people who are creating change at a meaningful level
BBO PA Network First Birthday Bash for the energy, beautiful surroundings and the sense that it may be our 'last hurrah' for a while
Boston Wine and Comedy – I was due to travel to the US and perform in person but COVID put paid to that so we did it online. I managed to be in three different states, in several people's gardens, on one person's boat and in a whole host of kitchens all at the same time!
If you could pass on one piece of advice to those starting out in their careers, what would it be?
Don't be afraid to ask questions. I've had some great outcomes using this approach – from calling an IT firm to ask for feedback on why they didn't hire me (they then hired me on the basis that I was tenacious) to receiving valuable advice on setting up my own business after asking a highly successful entrepreneur for this thoughts. If you're interested in others and willing to learn, great things can happen!
One of the best books you'd recommend reading?
If you want an inspirational read about a woman who completely followed her calling read 'Just Kids' by Patti Smith.
If you want something utterly silly that covers some quite serious topics such as how we're sold to try 'Parsnips, Buttered' by Joe Lycett
And finally…if you want a business book, this one's very cheesy but I love the emphasis on giving, check out 'The Go-Giver' by Bob Burg and John D. Mann
Best podcast series?
The Women on Top Podcast (WOTPOD) is great as it focuses on women across all business sectors and explores the challenges and rewards in a refreshingly honest fashion. The guests are fascinating and from all walks of life, you'll learn something from every podcast. https://www.thewotpod.com/
Best TedTalk?
I barely get time to watch what I want on the TV…no TED Talks for me!
Best piece of advice you've been given?
It's what people do rather than what they say that's important.
More about Toni…
You can find out more about her performances and published work at www.tonikent.co.uk or follow her on Twitter, LinkedIn and Facebook at @tonijkent. On Instagram she is @toni_j_kent because someone else got there first!
Thank you so much for your time Toni, we can't wait to hear your session on RISk on February, 18th! By all means connect with her on Toni Kent | LinkedIn.