Supporting and championing exemplary CSR practice is core to our values at BBO PA Network. Understanding what this looks like and how organisations carry out 'good practice' is where there is value in sharing our members' experiences. Just having the conversation and bringing to life all the great things Assistants do helps raise awareness. We introduced our #BBOCSRChampion of the Month initiative to do just that, to highlight all of the incredible CSR work that takes place in organisations in the hope that it inspires others. 
We are proud partners of CSR Accreditation who are delighted to be supporting this amazing initiative. After hearing from CSR-A's Managing Director last year, Richard Collins, we knew how BBO PA Network could do more for it's community!
Each month at our online events, we make some time for our CSR initiative in the agenda. We hear from BBO PA Network members who share their CSR experiences but most importantly inspire others. We celebrate members' stories and hear about the good work Assistants carry out not only within their organisations but also on their own accord. Each BBO CSR Champion will be made a CSR-A Associate and will have a tree planted in their name as part of the Green Earth Appeal.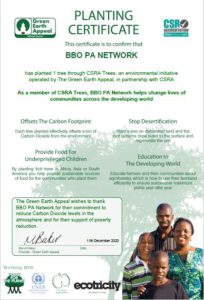 Social Responsibility allows you to enrich the quality of lives for all by investing in social value as an essential part of an organisations culture. This provides purpose and impact and will ensure a sustainable and profitable business. It will help to build a better world for future generations by improving the environment and ensuring a cohesive community to live and work in.
We are thrilled with our partnership and are proud that BBO PA Network members are the CSR enablers that can create a CSR legacy for their organisations and have a positive impact on the world.
We are excited to announce our May 2021 BBO CSR Champion: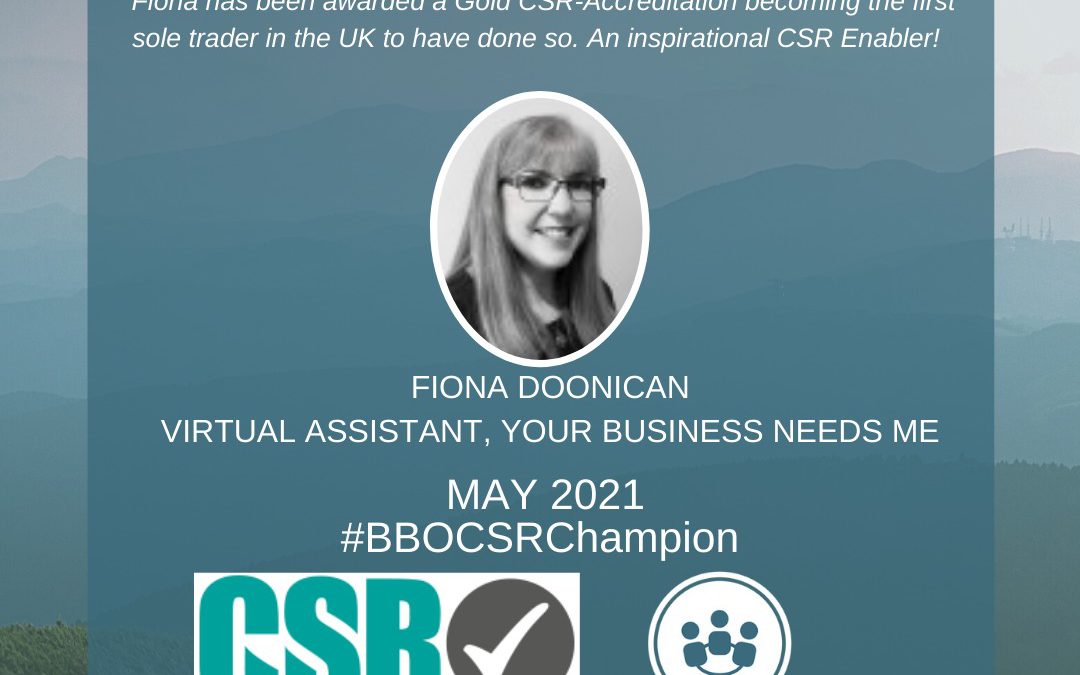 Fiona Doonican, Virtual Assistant 'Your Business Needs Me'
Fiona Doonican, My CSR Journey:

"I have always been aware of our effect on the environment and did my bit by recycling, but found myself shouting at the TV after watching David Attenborough.  I would ask "but what can one person do?"  It seemed as though stopping fossil fuels and Net Zero were things that "big industry" had to do.  I took it upon myself to do some research and found that, actually, there is loads that one person can do to promote action against climate change.

Whilst putting together a proposal for a client for their CSR implementation, I found CSR-A and signed up for their fantastic 6 week course.  I felt that I needed a little more guidance on the overall issue and by becoming a CSR enabler, I felt in a much better place to advise my clients and my wider social media audience.  Following the course, I put my own business through the Accreditation and was absolutely delighted to be awarded a Gold Accreditation – the first Sole Trader to achieve this.  I have partnered with CSR-A to spread the word on their courses and to enable more businesses like mine to become accredited.

Since becoming accredited, I have joined my local Climate Action Group and have also put my name forward for local Parish Council, which has declared a climate emergency for Hazlemere.  I am working with them to create a Bee corridor – giving every household in Hazlemere a packet of wildflower seeds to plant in their gardens, giving our Bees an almost endless source of food this summer.  I am also heading up the local "Great British Spring Clean" to rid my local area of litter and encouraging people to Keep Britain Tidy and our lovely neighbourhood beautiful.  Every month, the group runs a Climate Talk (this is the first Monday of the month at 6pm) and we have amazing people coming to talk to us about Wind Turbines, Food Waste, Carbon Footprints and much more.  If you would like to come along to one of these, please get in touch for details.  We would love to have you there."

Wow, what a worthy winner Fiona is and we are utterly delighted to name her our June BBO CSR Champion!