Supporting and championing exemplary CSR practice is core to our values at BBO PA Network. Understanding what this looks like and how organisations carry out 'good practice' is where there is value in sharing our members' experiences. Just having the conversation and bringing to life all the great things Assistants do helps raise awareness. We introduced our #BBOCSRChampion of the Month initiative to do just that, to highlight all of the incredible CSR work that takes place in organisations in the hope that it inspires others. 
We are proud partners of CSR Accreditation who are delighted to be supporting this amazing initiative. After hearing from CSR-A's Managing Director last year, Richard Collins, we knew how BBO PA Network could do more for it's community!
Each month at our online events, we make some time for our CSR initiative in the agenda. We hear from BBO PA Network members who share their CSR experiences but most importantly inspire others. We celebrate members' stories and hear about the good work Assistants carry out not only within their organisations but also on their own accord. Each BBO CSR Champion will be made a CSR-A Associate and will have a tree planted in their name as part of the Green Earth Appeal.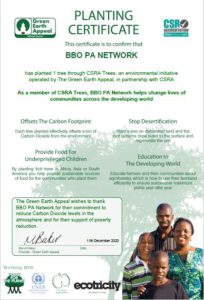 Social Responsibility allows you to enrich the quality of lives for all by investing in social value as an essential part of an organisations culture. This provides purpose and impact and will ensure a sustainable and profitable business. It will help to build a better world for future generations by improving the environment and ensuring a cohesive community to live and work in.
We are thrilled with our partnership and are proud that BBO PA Network members are the CSR enablers that can create a CSR legacy for their organisations and have a positive impact on the world.
We are excited to announce our April 2021 BBO CSR Champion:
Linda McKee, Personal Assistant, Enterprise Holdings
Linda and Enterprise Holdings' commitment to CSR is truly inspirational, what an incredible example for all BBO PA Network members!