BBO PA Network April event blog by Ayesha McKinson, first time BBO PA Network attendee
The evening kicked off with some awesome announcements:
BLOW OUT THE CANDLES!!
Join me in wishing a massive Happy Birthday to the BBO PA Network! It has been two years since birthing and what an accomplishment. So much has happened and has gone from strength to strength. Cannot wait to see what is in store for the coming year and more to come!!
IN OTHER NEWS….WHAT A FAB MONTH IT'S BEEN!!
It was Administration Day on 21 April 2021, and what a wonderful celebration for all the fantastic business supports, out there within organisations across the globe. Hope you all were able to celebrate and bask in your glory! It is amazing what the administration profession does for companies and glad to see it is recognised! GIVE YOURSELVES A BIG ROUND OF APPLAUSE…WE REALLY ARE THE BEST AT WHAT WE DO!!
Also, this week, we celebrated International Earth Day on 22 April, where the world pledged support for environmental protection. This year marks the 51st anniversary of the annual celebrations and let's keep working to a more sustainable better world!
AWARDS
There are whispers of our very own BBO Network Awards ceremony this year and Sarah hinted, she will be going BIG!! Make sure you register over on the website to find out first hand as this is an event you do not want to miss!! If anyone wants to help out with the ceremony, then please get in contact with Sarah or Marianne, as they would appreciate more hands on deck!
#BBOCSRChampion of the Month – CSR Champion at its Finest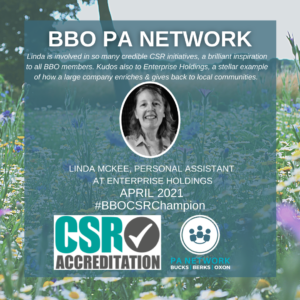 Linda McKee, who works for Enterprise Holdings in Surrey, gave a first-hand impressive account on the company culture and values, as well as the amazing work they do behind the scenes.
It is a family run business since conception and the close-knit family feel still exists today.
Enterprise believes in contributing to the local community, which really shows when they put money where their mouth is and donate to worthwhile charities. There was an exhaustive list of initiatives by the Enterprise Holdings Foundation, formed in 1982. For instance $462m donation to non-profit companies and with campaigns like Fill your Tank with a whopping $60m to food banks, and also to plant 50m trees all over the world by 2056 is absolutely fantastic causes.
It also runs an employee input scheme, where for every pound donated by the employee to their own chosen charity, Enterprise will match fifty pence.
The staff have paid days' vacation to support their charity of choice, and also take part in many other charity days.
This company is doing so much for their corporate social responsibility, which more companies need to take notes from!
As if that was not enough to blow your socks off, we heard from two fantastic keynote speakers, Malcolm Taylor and Andi Hemming.
Malcolm gave a quick whistle stop talk, covering all things Finance for Assistants. He gave three financial statements examples and broke down the financial jargon into everyday simple language, which was so effective.
We all manage our personal finances so think of company finances the same way and your half way there! If you want any more information then do contact Malcolm about the many courses 'Your Excellency Ltd' runs.
Andie was next up and provided five key strategies for the first 90 days of a CEOs on boarding. I had never really thought of it before in that way but the PA/EA is the critical piece in the puzzle for ensuring their CEO has a positive experience. Just checking in to offer the support and advice could make all the difference. It is really taking an overall view and being able to create a mindful plan so a great foundation is formed.
A quote Andie shared which really stuck was as a PA/EA we are "the co-pilot during take-off and the navigator during the flight".
Top key points to remember were: 
keep an eye on their wellbeing
Be a good listener
Look out for blindspots
The Q&A session with Andie was also super insightful and shared lots more useful tips to work in partnership with your CEO.
AFTERSHOW
THE aftershow networking event which is a fab way to network with other likeminded assistants was a great space!
Thank you, Sarah and Marianne, for an amazing session and look forward to the next one!
Ayesha McKinson, 22 April 2021
BBO PA Network House Keeping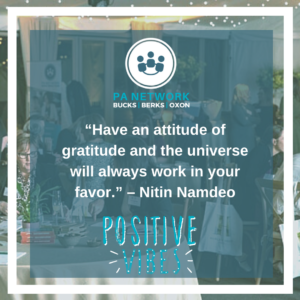 The BBO PA Network membership was launched a few months back to provide a platform for PA/EA/VAs to grow, share contacts and to provide support. If you'd like to know more about our formal membership, please visit HERE.
Do not forget to join our Facebook page. LINK HERE It was set up as a networking tool. So please be an active member, share, tag any opportunities etc…, please don't keep it to yourself if it could help others – be brave and speak up!
If you have any resources to share, interesting articles, blogs, podcasts… do share then with Sarah or Marianne and they'll pop them on the BBO PA Network LinkedIn Page. Make sure you are following HERE.