BBO PA Network event 20.5.21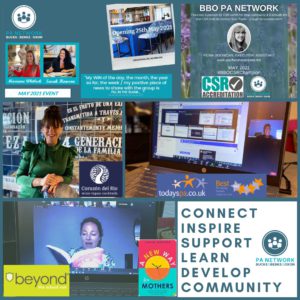 Sarah and Marianne were hosting from a tapas bar in sunny Spain… (well not really) … but they could have fooled me!!
Instead, they were in the lovely Corazon Del Rio Spanish tapas restaurant in Bourne End, Buckinghamsire, with a beautiful backdrop full of wine bottles which looked stunning.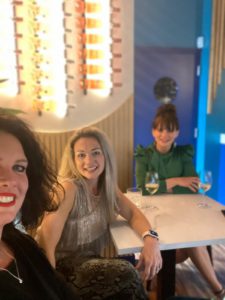 The owner, Katrina Turnbull also joined and provided information about planned events, including tasting evenings and ham carving! The soft launch was on Tuesday 25 May for five days, otherwise fully operational from Tuesday 1 June, with many bookings already. With its unique waterfront location and stunning décor, this should be on your list to visit!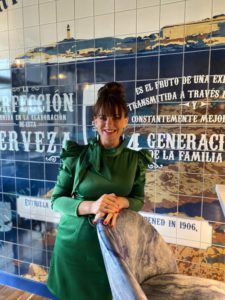 So…if you have not already, what are you waiting for…go and make a reservation! 😊
What a year!! The adversity of the global pandemic which we witnessed in 2020, was tough going at times, but now we see that glimmer of light.
Both Sarah and Marianne with their passion and determination, set up their very own specialist assistant recruitment company last year called, Strategic PA Recruitment.They also, went on to develop and launch the BBO membership which has gone from strength to strength.
They are both super thankful to all the BBO PA Network members for their support, as nothing is possible without it. Thank you everyone for taking part and creating such an awesome network!
BBO CSR Champion of the Month – CSR Champion at its Finest
Join me in giving a big round of applause to Fiona Doonican, who was awarded the BBO CSR Champion for May 2021.
Fiona believes there is so much one person can do to protect the environment, and even a small idea or change could have a bigger impact.
She ran through some of the local initiatives she is leading on, and if I am honest, they all sounded awesome, but the BeeSquared initiative was my favourite. They had delivered wildflower seeds to every house in Hazlemere, and asked residents to plant the seeds in their gardens so there is not only a pretty path to admire, but a place for bees to visit.
There were other great initiatives like Climate Talks every Monday, to discuss carbon footprint. On Monday 7 June, there was a virtual talk on food waste. Please do get in touch with Fiona for more info if you are interested, and she will share the link.
If you want to find out more, Fiona recommends looking up the CSR Accreditation 6-week course. It is very useful if you are keen to promote initiatives within your business.
To top it off, Fiona had put her own business through CSR and achieved first sole trader gold accreditation!! Well done, Fiona! What a remarkable achievement and keep up this fantastic work.
Sarah urged anyone else completing CSR initiatives within their companies to make contact, as you could be next to share your story. At BBO we love promoting the amazing work our members are taking part in, so please get involved!!
Paul Pennant = Microsoft wizard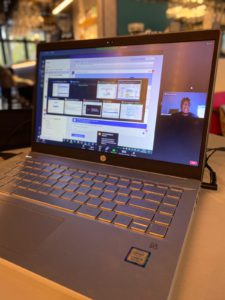 Paul is a Microsoft Office Certified Expert Trainer from Today's PA.
A little poll to decide what to begin with and MS Teams won hands down!! If I say so myself, it was quickly apparent that Paul had each one of us eating out the palm of his hands, with him just flitting between screens and applications so effortlessly.
He showed many nifty tips and tricks which were useful for time management but also how to utilise MS Teams to its full potential. This was only scratching the surface in the time he had allocated.
There are just too many wonderful features on MS Teams to mention, but I will give you a taster.
Did you know from within MS Teams you can send an email to a particular channel, including your external clients or customers. Do not be worried as they will not see the whole chat, just the messages you want to share.
You can also add external apps and services from outside Microsoft to a channel of your choice. i.e., Zoom calls, or even an RSS feed or Mailchimp responses. The possibilities really are endless.
Next it was all about Outlook. As assistants we spend about 80% of our time using this, with roles heavily focused on emails or calendar management. Paul went through some time busting tips to help us be more efficient in roles (if that is even possible). It is always wonderful to find new or clever ways to save time, which I don't know about you, but I love learning.
You know that annoying thing that happens…when you open more than four calendars on Outlook, and it switches to vertical scheduling view…. Paul showed us how to switch this off, which will save us some extra clicks for sure!!
Most of assistant's time is spent arranging and rearranging meetings. There is finally a new feature, where you add attendee's email addresses, then hit the red button called New Meeting Poll, which will very cleverly find times in the invitee's calendar, which you can then send a poll and let them decide. It is kind of like Doodle poll but within Outlook.To top it all off, you can set the poll to automatically send out meeting invite once a consensus has been made. This was by far the main attraction of the show. Paul absolutely floored us all with his Microsoft wizardry. Thank you Paul! 😊
Louise Webster, Beyond The School Run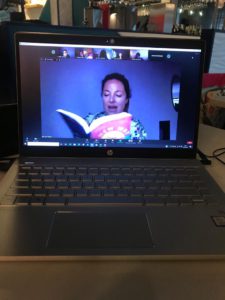 Next, we heard from the talented Louise Webster, the founder of Beyond the School Run, which was set up from her own personal experiences and the desire to empower parents. It is predominantly for mums re-skilling or developing a business, but it is simply relatable for all.
It really comes down to the power of connections. Any connections you make can have a profound meaning on that period of your life and the challenges or opportunities faced.
The Beyond the School Run can be found via all the usual social handles and also in a book 'A New Way for Mother'. It s all about helping you along your journey to find your way, but in a new way! Everything is different as a new mum and so you must go out and create connections, but then know how to utilise those connections to benefit all parties. Louise wants to spread the word that there is more to the conventional ways of connecting, and just by being ready and open to explore those new ways will help the process.
Louise read some of her book aloud and it highlighted the concept to reconnect with yourself again, and your true self at that.
We must make the right connections, as one authentic connection changes how we feel. It is all about what is right for you. What lights you up and adds value to your life to make you feel good.
School gates or wherever you are, you should go to the places you are comfortable to connect. Then once you found your place, use the place to your benefit. Talk about what you do, and beyond just asking about the weather or general chit chat, have a conversation. You must tell someone what you are looking for. You need to mention things and see where it leads rather than searching far and wide, as you know better than anyone something could be just on your doorstep.
Every step you take, could be tiny but it will path the way for you. You can and should do it and need to get out of thinking someone else should do it. Make a conscious decision to take steps.
When you connect with your skillset, it will add to your career or life journey. What engages you can give you such a powerful energy. Your spark, your element! Everyone has it, and you will know it, when you just read something and zone out. You should never doubt ourselves as we all have a purpose, so do something to explore the possibilities and find what lights you up!!
It was a fabulous session with Louise and had a few lightbulb moments myself listening to the session, which will help path my way. Thank you, Louise! 😊
Encore
As we all could not get enough, Paul re-emerged and had more wonderful time busting tips to share with the group on PowerPoint. It really showed that PowerPoint presentations are not all about death by bullet points and there are so many fun and wonderful features to use, which I will be exploring more!
It was yet another wonderful meeting with amazing speakers and likeminded assistants. Big thank you to Sarah and Marianne and the network for another successful virtual event.
BBO PA Network member, Ayesha McKinson, 20.5.21
BBO PA Network House Keeping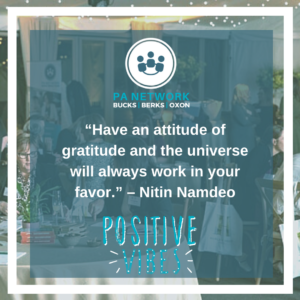 The BBO PA Network membership was launched a few months back to provide a platform for PA/EA/VAs to grow, share contacts and to provide support. If you'd like to know more about our formal membership, please visit HERE.
Do not forget to join our Facebook page. LINK HERE It was set up as a networking tool. So please be an active member, share, tag any opportunities etc…, please don't keep it to yourself if it could help others – be brave and speak up!
If you have any resources to share, interesting articles, blogs, podcasts… do share then with Sarah or Marianne and they'll pop them on the BBO PA Network LinkedIn Page. Make sure you are following HERE.