BBO PA NETWORK MEMBERSHIP
Our membership offers you the opportunity to be part of something special and connect with likeminded Assistants in a community that is professional, encouraging, inspiring, uplifting and fun! Learning & Development opportunities, great venues, training masterclasses, partner discounts...
become a BBO PA network member
bbo member benefits
BBO PA NETWORK MEMBERSHIP INCLUDES:
12 Online BBO PA Network L&D Events (one a month), in our usual relaxed tried and tested format with incredible speakers.
20% discount to the Autumn 2022 BBO PA Network Awards because recognising YOUR efforts and being rewarded is what this industry needs, especially now. Platinum BBO Membership includes 1 complimentary ticket.  
We will also be introducing, in conjunction with some amazing inspirational trainers, a series of "Bespoke BBO PA Network Masterclasses" which we can't wait to tell you more about. You will receive one FREE* plus a 20% discount on the other ones for being a member. Platinum BBO Membership includes complimentary access to ALL Bespoke BBO PA Network Masterclasses.
Face to face networking opportunities as soon as we are allowed to organise these again. If you are a member you will be able to register for these events 48 hours before general release and receive a 50% discount. 

Platinum BBO Membership guarantees your place** as it includes complimentary access to all Face to Face events.
Hotel showcases, new venue openings, special invites. Discounts with hotel and venue partners as well as BBO Trusted Partners.
LinkedIn BBO PA Network Membership Badge

to highlight your membership and help increase your online visibility.
* Please note to qualify for the FREE "Bespoke BBO PA Network Masterclass" when you are on the 'Monthly Membership' you need to have been a paid member for 3 calendar months. You can cancel your membership at any time.
** Please note you will still need to register for the event and will be given an access code.
             YOUR NETWORK IS YOUR NET WORTH!
We believe in supporting our Assistant community in any way we can. We don't want you to miss out particularly due to a situation that is out of everyone's control if you are not currently in work or in the process of being made redundant. Please do get in contact with us if you are currently out of work as we would love for you to attend our online events on a complimentary basis.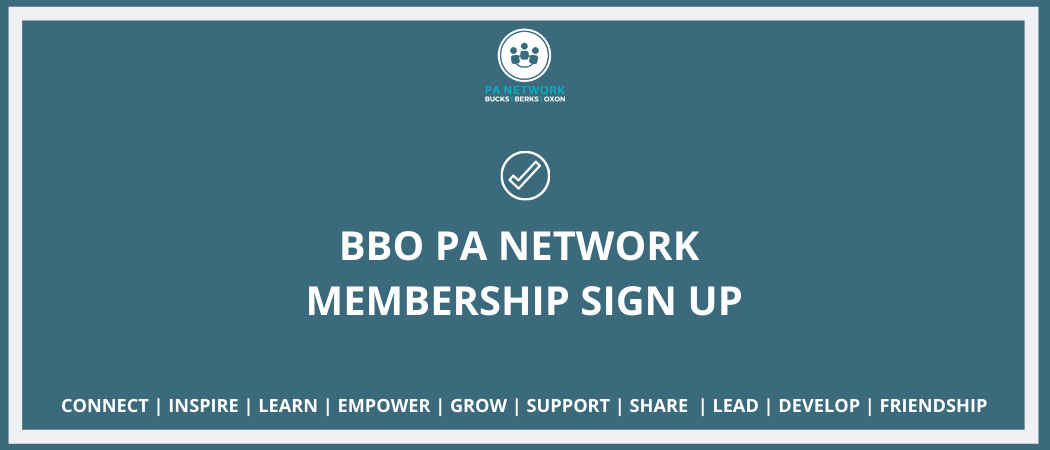 Get in Touch
If you have any questions about the network or you are a potential venue, speaker, supplier or sponsor – we would love to hear from you!