STRATEGIC PA RECRUITMENT- Lucy Brazier OBE | Skills Matrix | 13-12-21, 12pm
13 December @ 12:00 pm

-

1:00 pm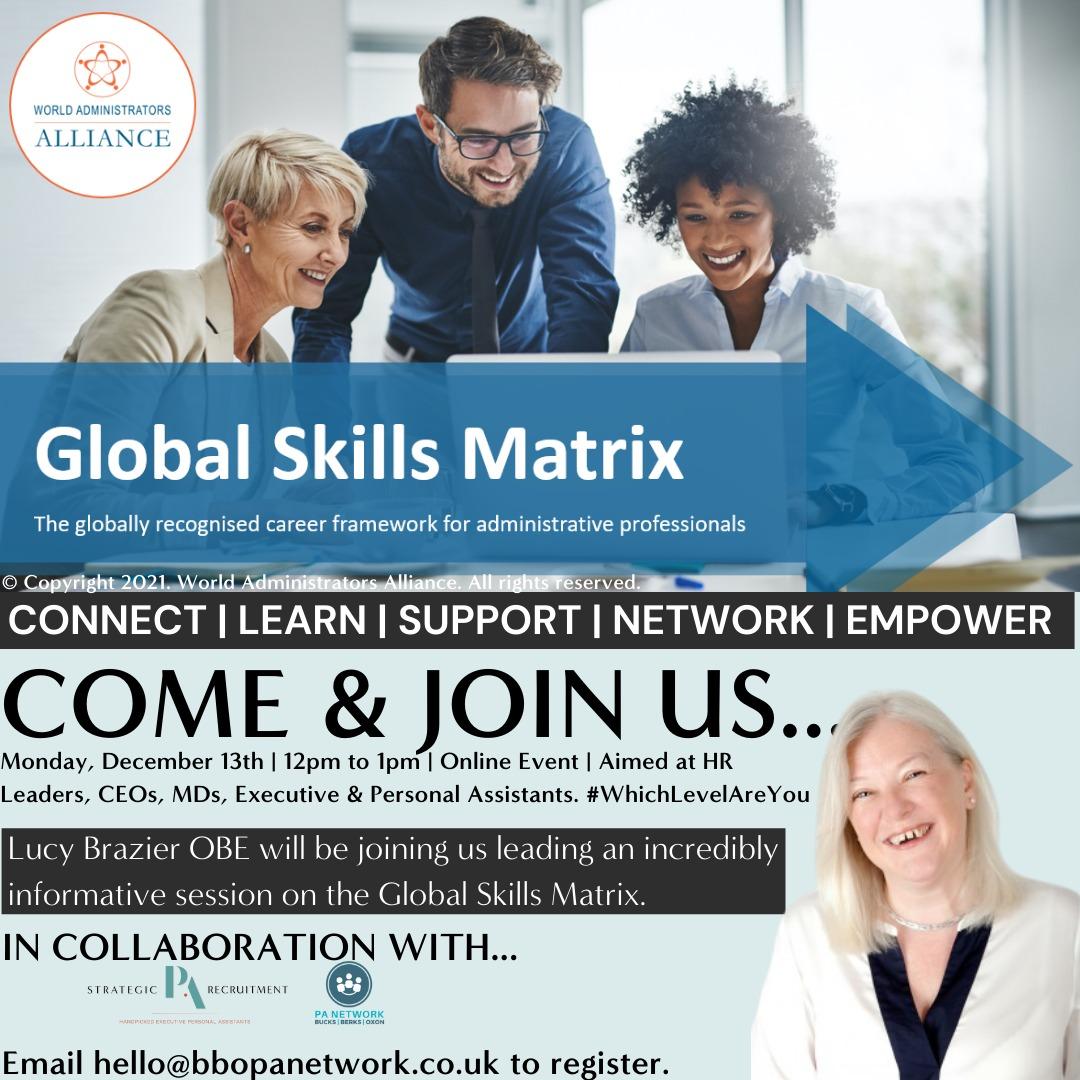 BBO PA Network & Strategic PA Recruitment's online Global Skills Matrix Webinar with Lucy Brazier OBE, CEO Marcham Publishing
Hosted by BBO PA Network / Strategic PA Recruitment's Directors, Marianne Whitlock & Sarah Howson and in collaboration with Lucy Brazier OBE, CEO at Marcham Publishing, you are invited to attend our 1 hour Global Skills Matrix workshop on Mon, 13th December at 12pm.
About the Global Skills Matrix: The Global Skills Matrix has the potential to revolutionise and empower career opportunities for Assistants/Administrative Professionals in all sectors while realising the full potential to an organisation of an effective Assistant/Administrative Professional.
The problem Assistants/Administrative Professionals have faced for years is a total misunderstanding of level, development and role content for the career support professional. This matrix, defined by the World Administrators Alliance, will finally make this a problem of the past.
The Global Skills Matrix: What is it?
The Global Skills Matrix offers a globally recognised framework for administrative professionals that will enable organisations in all countries to identify different levels for the different roles. It will define clear career progression and create more opportunities for anyone working in those positions.
The Global Skills Matrix: Why have it?
There is a need from Clients to build inclusivity, to encourage and motivate their administrative teams. This is how to do it. We are always educating our Clients to what a PA/EA/Business Partner is and how do we define their roles? This matrix will demonstrate that an administrative role is a life-long career, not just a job. It will show there is structure, progression, opportunity. It will allow for enhanced performance and better communication across teams. As these core individuals in a business start to feel valued, appreciated and rewarded, clients will see better performance and results.
We hope you will find the global skills framework useful to you as an HR department. We hope it can increase clarity around performance expectations and establish a clear link between individual and organisational performance for the administrative roles in your organisation. When implementing this framework, care needs to be taken to balance detail with flexibility and avoid an overly prescriptive and non-inclusive approach. We highly recommend a two-pronged approach that includes both the administrative staff and their supervisors in order to achieve full value.
HR Departments can adopt this skills framework to achieve the following goals:
• Enable consistency across job adverts for admin roles and accuracy in attracting the right candidates.
• Provide greater ability to assess and hire the right candidate by embedding accurate requirements in
interview questionnaires and rubrics.
• Aid fair performance appraisal and related reward packages based on the level.
• Increased employee effectiveness due to clarity of role expectations and results for both the admin role
holders and their supervisors.
• Greater organisational understanding of the admin role and different levels of capability required.
• Better analysis of training needs by the learning and development team.
• Better career management and succession planning for admin roles.
This is a free webinar to attend, please ensure you have registered.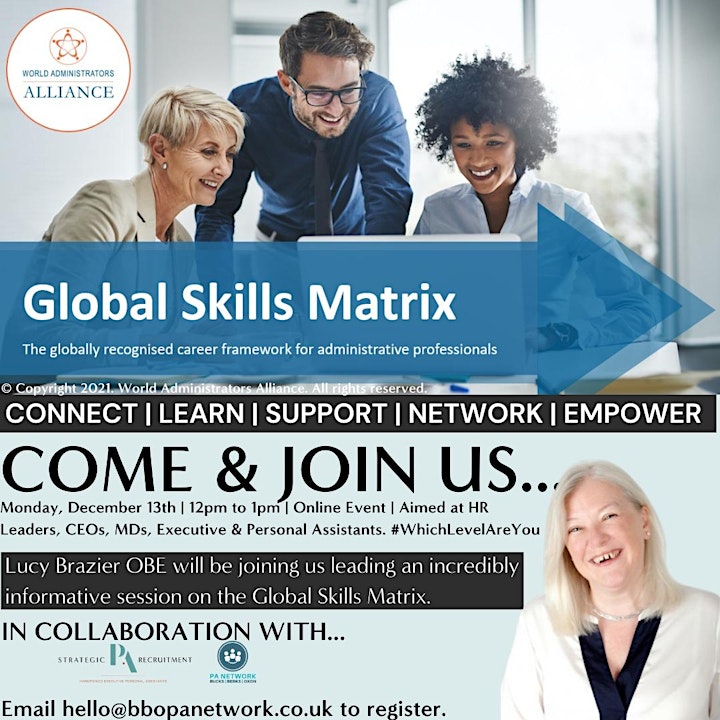 About Lucy Brazier OBE:
Founder of the world's leading global publication & conferences for Administrative Professionals – Executive Support Magazine & Executive Support LIVE.
Lucy was recently awarded an OBE for services to Office Professionals on the Queen's Birthday Honours List 2021.
Lucy is known globally for her years of leadership and dedication to the development of administrative professionals and to changing the face of the profession. Her passion is for the Assistant role to be truly recognised as a career and not just a job. She has spent much of the last 10 years training and running events for assistants around the world, campaigning for a clear global framework for career progression and educating executives on how best to use their executive support functions. Her formidable training expertise and speaking style have given her opportunities to train, present and emcee events in over 50 countries at over 450 events to date.
Lucy's vision for her business has always been about delivering the best training available to all four corners of the world. Her belief that publishing is about innovation, and multi-platform delivery combined with a healthy respect for holistic information and traditional print values has resulted in the creation of a powerful global community who are changing the landscape of their own profession.