#BBOPANetwork ONLINE 17/03 | Personal Branding & EA as a 'People Advocate'
17 March @ 7:30 pm

-

9:00 pm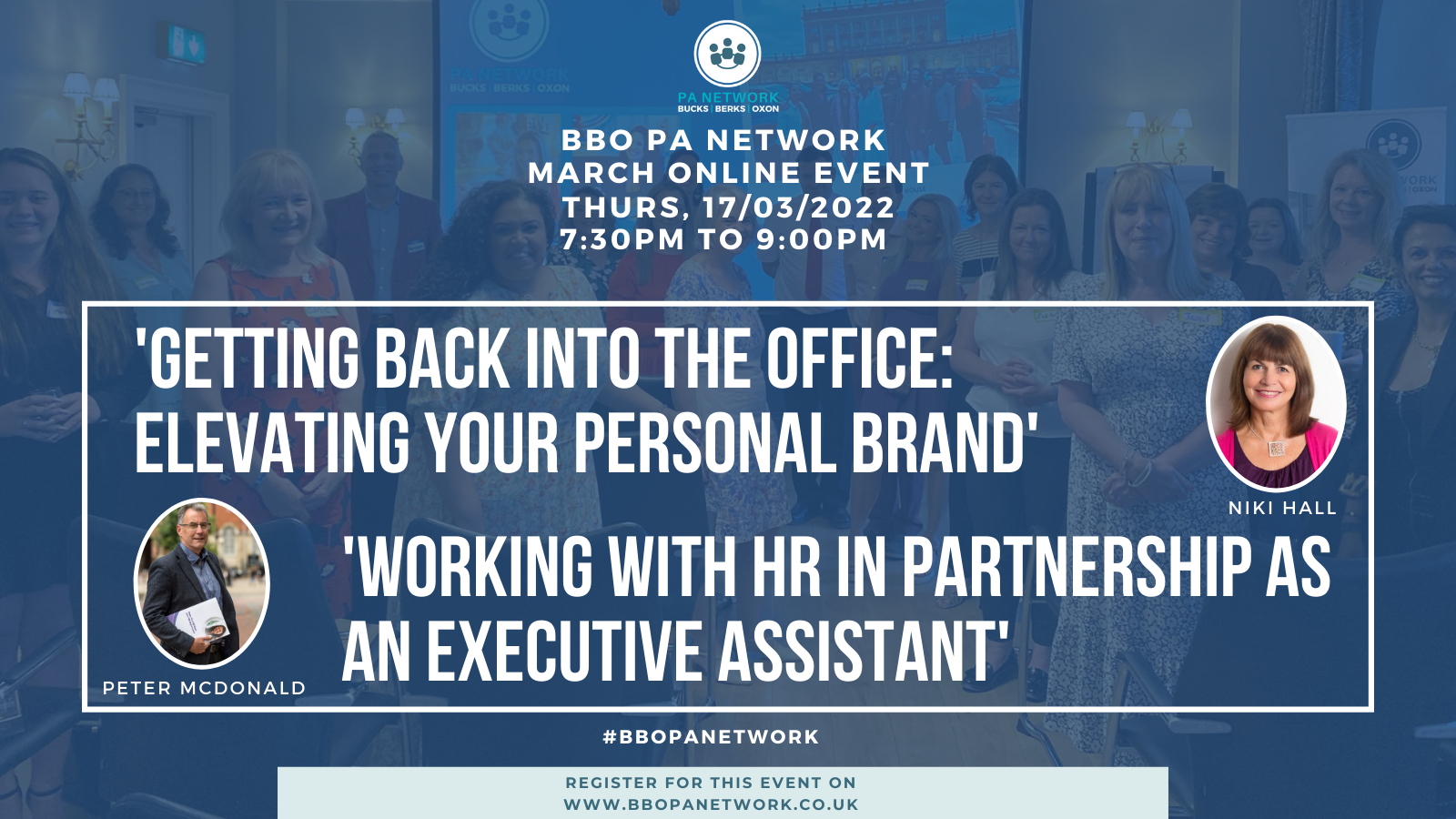 Join us: Niki Hall with 'Elevating Your Own Brand' & Peter will talk about 'Working with HR in Partnership as an EA' . #BBOPANetwork
You are cordially invited to attend the Bucks, Berks & Oxon (BBO) PA Network's online event on Thursday, 17th March 2022 at 7:30pm.
We will welcome our speakers for the evening:
▶ Niki Hall – 'Getting Back into the Office: Elevating Your Personal Brand'
▶ Peter McDonald – 'Working with HR in Partnership as an Executive Assistant'
Sarah & Marianne will be hosting this online event.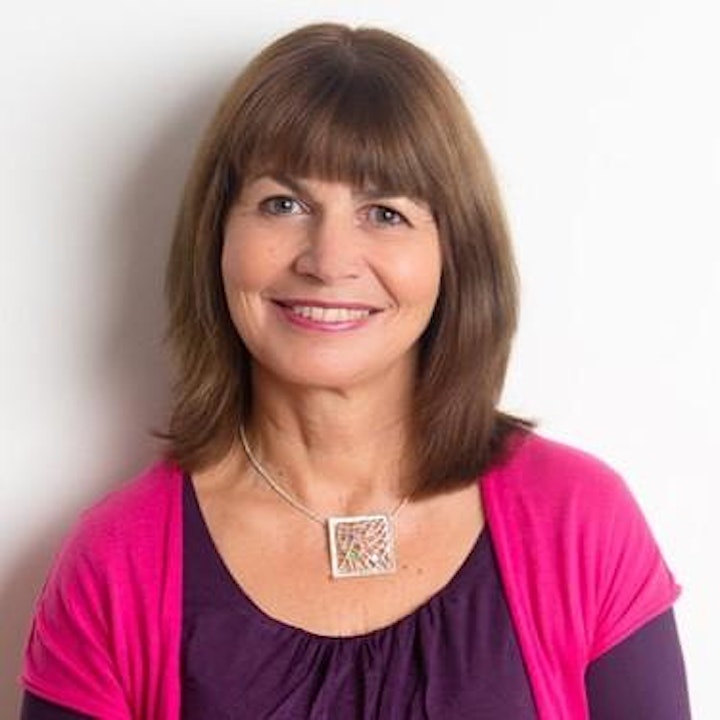 Niki Hall
Niki Hall's session: 'Getting Back into the Office: Elevating Your Personal Brand'
Most companies invest large sums of money on their own branding and company image, but often fail to consider the professional presence of their employees and the effect this has on their overall corporate brand message.
Often its your employees who are at the front line of your company and given that 80% of a first impression is based on how we look, it is imperative that they are giving the right message.
Our personal image has a massive impact on confidence, and therefore when your employees gain confidence in their wardrobe, it can have a huge impact on their performance and their attitude to work.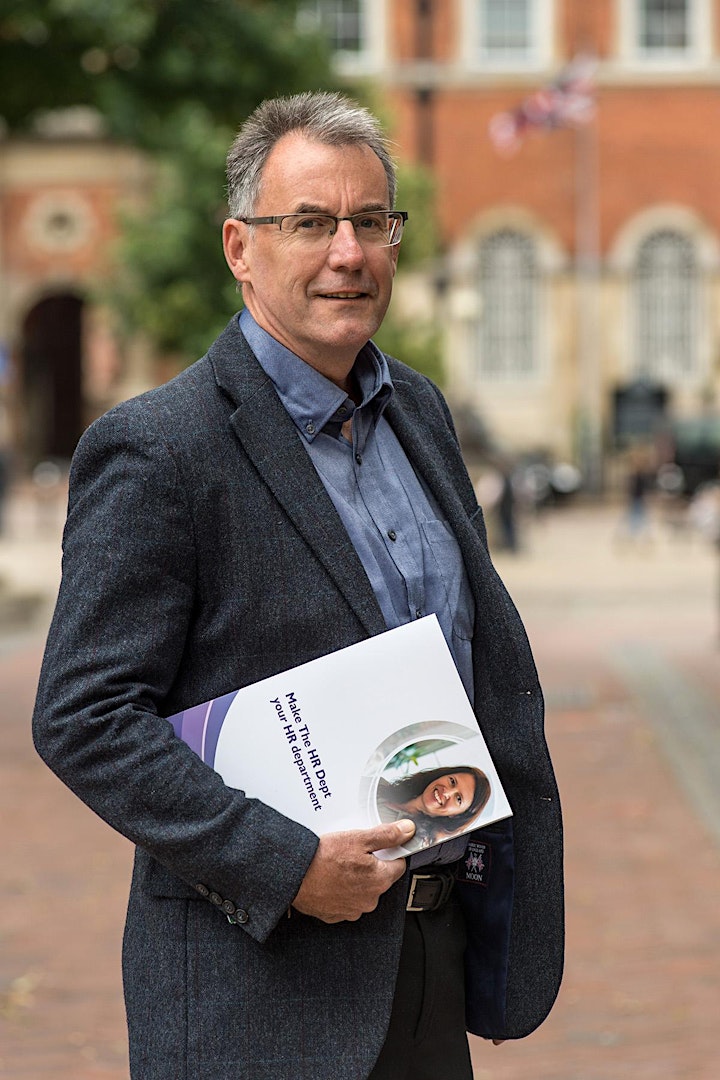 Peter McDonald
Peter McDonald's session: 'Working with HR in Partnership as an Executive Assistant'
Attending this session you will hear how you as an EA/PA can help your HR as well as your leaders drive and secure a more engaging environment that will help motivate and retain good team members.
Peter provides a full range of HR services and support from recruitment to redundancies and everything in between to UK SMEs. He has had global roles within major international corporates and has extensive HR expertise that he brings, that benefit local small and medium sized businesses.
He has worked in South Africa, Switzerland and the Middle East before deciding to set up his own business closer to home. Peter's career has seen him up strategic and operational HR programmes for major companies including Unilever (consumer goods), Tetra Pak ( food packaging) and Panalpina (Swiss Logistics). Peter is a trained Leadership facilitator and he has conducted numerous leadership workshops using Lumina Learning. He also has experience in company merges and outsourcing.
For Peter, the fundamentals of HR are the same no matter what size business you are in and his ability to bring the benefits of his HR experience to smaller business looking to grow and prosper is what motivates him. A lot of his work involves facilitation and recognising the need to partner with clients by enquiring with open ended questions, listening and devising suggestions which suit the aims and ambitions of the business.
During this unprecedented time, Peter is a strong advocate, that as society and workplace changes, he believes business owners are recognising that good HR professions are business advisers and particularly for SME's, can add great value.
Peter provides HR advice and support to SME's in Aylesbury Central and East Chilterns, helping them to proactively prevent people problems from arising.
BBO PA NETWORK EVENING FORMAT
7:25pm – Get 'Online' – Log on and get settled ready for a 7:30pm start, make sure you have your drink of choice in your favourite mug/glass!
7:30pm – Welcome and Introduction by Sarah & Marianne, BBO PA Network
7.35pm – Welcome from ?
7:40pm – BBO CSR Member of the Month #BBOCSRChampion
7:45pm – First Keynote Speaker: Niki Hall
8:15pm – Second Keynote Speaker: Peter McDonald
8:45pm – Finish / 'After Show Catch Up' / Informal Networking – for those who would like to stay on and have a catch up!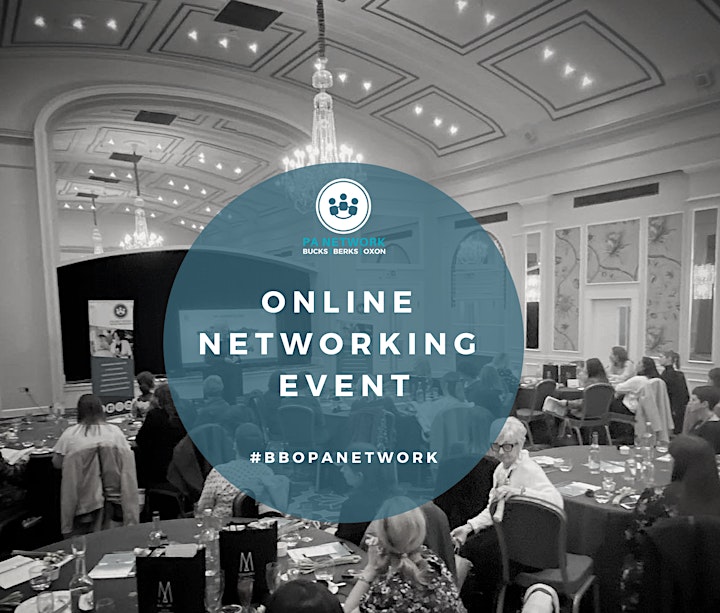 ABOUT THE NETWORK:
Bucks, Berks and Oxon PA Network (BBO PA Network) is an active professional networking group for Personal Assistants, Executive Assistants, Virtual Assistants, Administrators and Office Managers who work or live in or around the Bucks, Berks & Oxon area. We are not county specific, anyone is welcome to attend!
It doesn't matter where you are in your career journey, whether you are just starting out in the Business Support industry or are very experienced – as long as you are in a support role you are more than welcome to join our membership and attend our events.
We are an all inclusive network, we empower each other, lift each other up and support each other!
Sarah Howson founded the network 7 years ago whilst off on maternity leave. A former Executive Assistant herself, she understands how important it is to build and have a network of likeminded Assistants you can turn to for support. Marianne Whitlock is very much a people person through and through and has a interesting sales, marketing and events background as well as a huge passion for fitness. Together, Sarah and Marianne run Strategic PA Recruitment alongside building the PA Network community. Championing the Business Support profession as well as enabling a platform to build an incredibly professional, warm and friendly network.