#BBOPANetwork LIVE 23/08 | Netwalking | Cliveden
23 August @ 6:00 pm

-

9:00 pm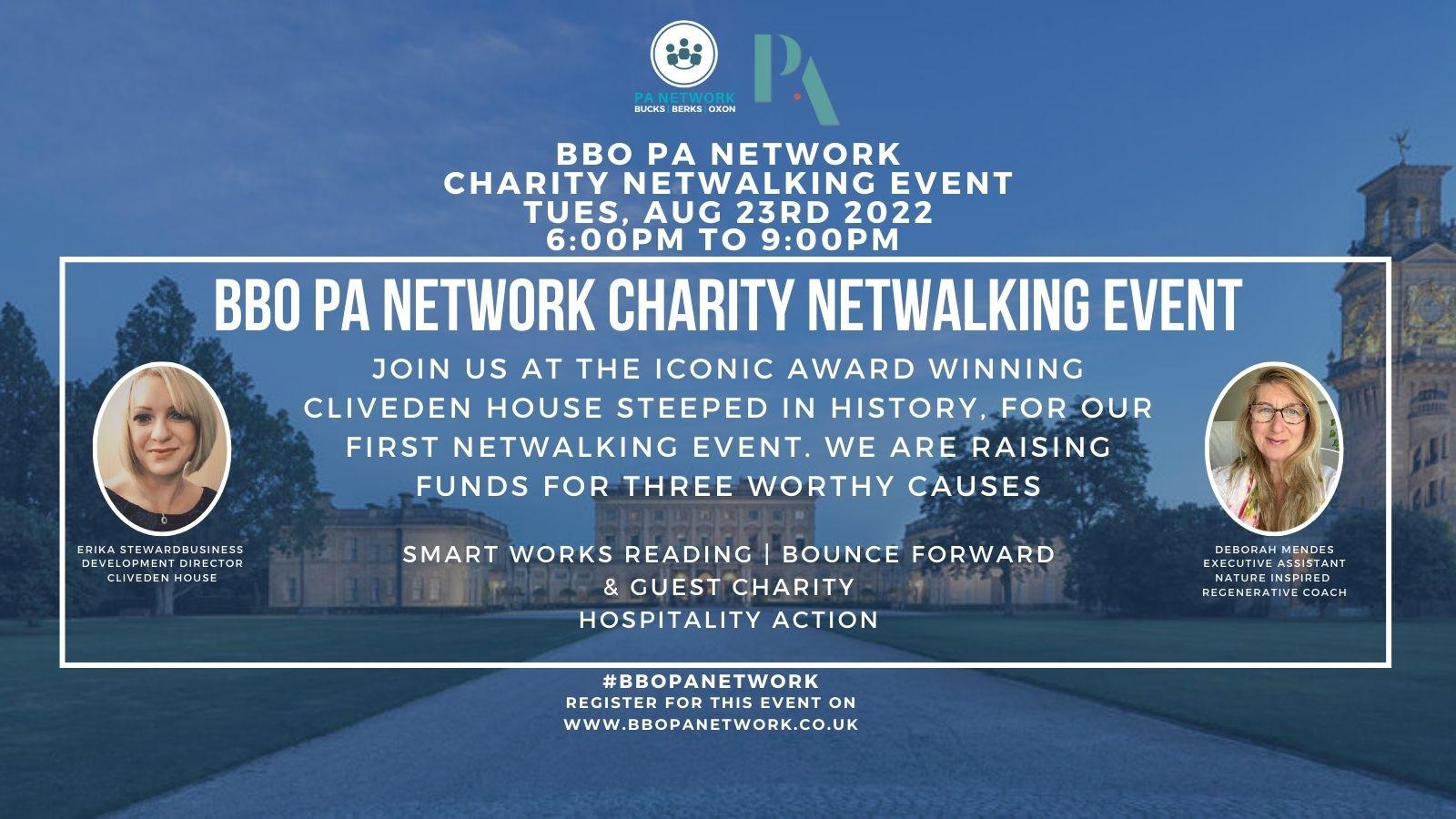 Join us at the iconic award winning Cliveden House steeped in history. We are raising funds for three worthy causes.

You are cordially invited to attend the Bucks, Berks & Oxon (BBO) PA Network's Charity Netwalking event on Tuesday, 23rd August 2022 at 6:00pm. We are raising funds for three worthy causes: Smart Works Reading, Bounce Forward and guest charity Hospitality Action.
▶ Guided walk with Erika Steward…
Cliveden's spectacular country estate overlooks the River Thames and is open daily for most of the year. For more than 350 years it has been a place of history, mystery, intrigue and scandal. Scandal hit most recently in the 1960s, when Cliveden was famously linked to the Profumo Affair. Enjoy tranquil riverside scenery as well as stunning views of the Berkshire countryside on this moderate trail along the riverbank and through the woods. Erika will guide us through approximately 3 miles and the walk will last approximately 90 minutes. Leaving from Cliveden House the walk will take you through the colourful Rose Garden, down the (172) steps, and along the river back through the woodland, Japanese Water Garden and Long Gardens, returning to Cliveden House where refreshments will be waiting.
▶ Deborah Mendes Nature Inspired Regenerative Coach will be joining as a guest to guide us through a series of exercises to reconnect back to ourselves and to nature. Deborah will guide us through 15min of exercises before we embark on our tour of the iconic grounds of Cliveden House.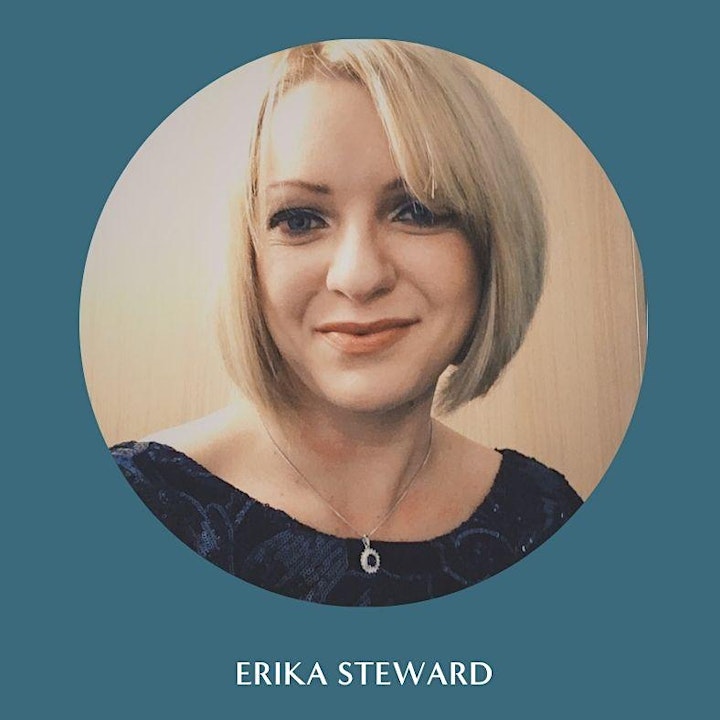 Erika Steward
With over 18 years of experience within hospitality, Erika is currently the Business Development Director at Cliveden House. Her background in the events industry, coupled with being involved in major events, conferences, product launches, and PR events, provides her with an understanding of the ever-changing, complex events, travel requirements of her partners and clients.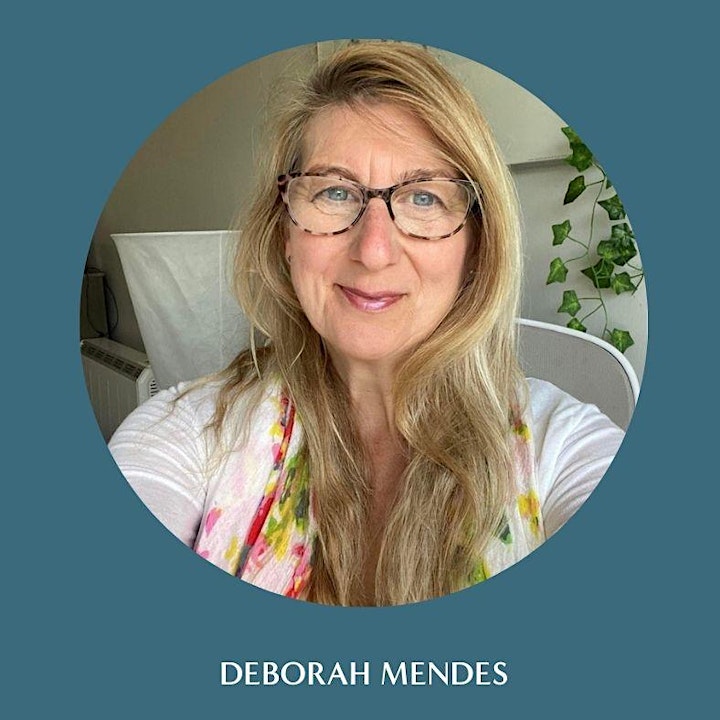 Deborah Mendes
Deborah is passionate about helping EAs fulfil their true potential , as well as enabling their executives and organisations to be the best version of themselves.
She values people, community and planet and this is reflected in her regenerative teachings with a nature connection practice at the core to reconnect us to our true essence and to become an regenerative EA
● Over 25 years as an executive assistant in the corporate environment
● Received recognition for taking a fresh approach to problem-solving as a systems
thinker
● Global Health Ambassador for awarding winning Wellbeing company program
● Unfulfilled to being fully expressed and mission driven
● Entrepreneur alongside part time Corporate EA job, since 2016
● Trained forest bathing guide and global sustainable leadership facilitator
● Nature inspired regenerative coach and consultant to executive assistants
"What gives me the most joy is to see others grow"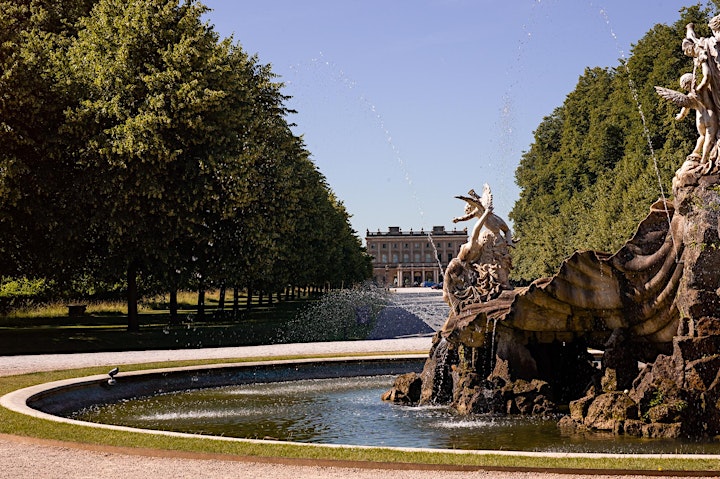 Cliveden House
When a house is as beautiful as this, it's only right that it has been at the centre of so many moments in history. With distinguished guests from Queen Victoria to Winston Churchill, including owners as characterful as Nancy Astor and from duels to political scandal, Cliveden's history is drenched in glamour, intrigue and drama. Standing proud in the heart of the Berkshire countryside, just 40 minutes from Central London, overlooking the River Thames and surrounded by 376 acres of National Trust gardens, Cliveden is as spectacular as it is distinguished.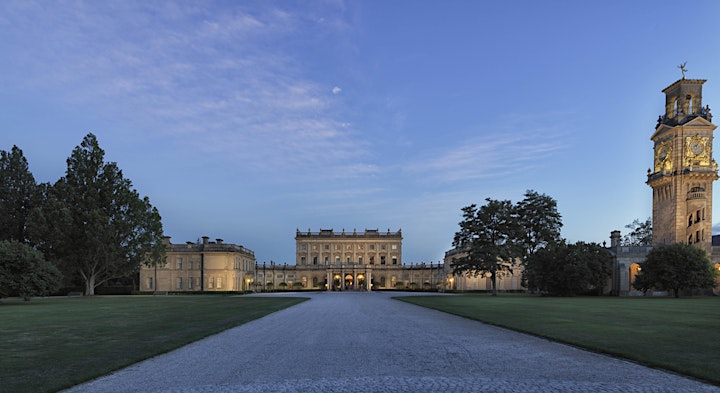 BBO PA NETWORK EVENING FORMAT
6pm – Arrivals & Informal Networking
6:30pm – Welcome & Introductions: Sarah Howson & Marianne Whitlock
6:45pm – Get Calm and Connected with Deborah as she guides you through a series of exercises
7:00pm – Tour commences with Erika Steward
8:30pm – Refreshments & Informal Networking
9:00pm – Finish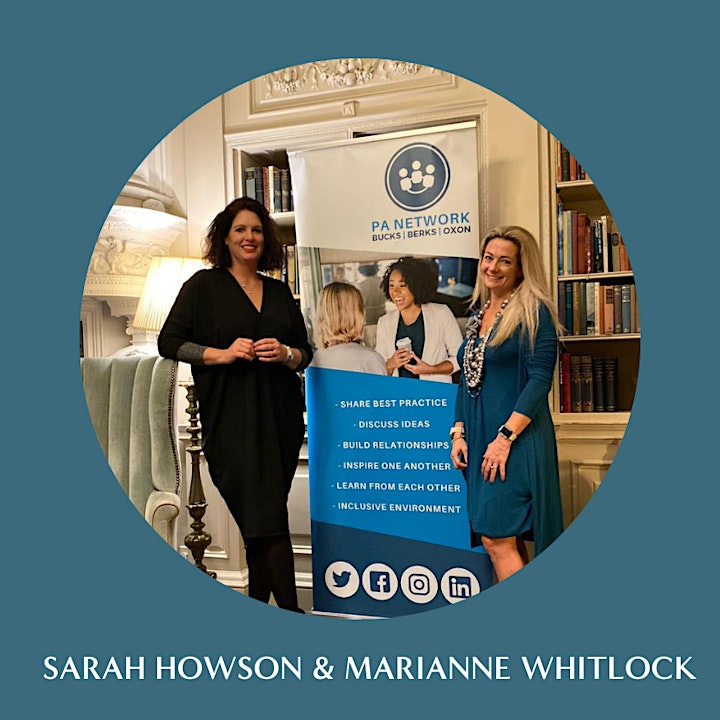 ABOUT THE NETWORK:
Bucks, Berks and Oxon PA Network (BBO PA Network) is an active professional networking group for Personal Assistants, Executive Assistants, Virtual Assistants, Administrators and Office Managers who work or live in or around the Bucks, Berks & Oxon area. We are not county specific, anyone is welcome to attend!
It doesn't matter where you are in your career journey, whether you are just starting out in the Business Support industry or are very experienced – as long as you are in a support role you are more than welcome to join our membership and attend our events.
We are an all inclusive network, we empower each other, lift each other up and support each other!
Sarah Howson founded the network 7 years ago whilst off on maternity leave. A former Executive Assistant herself, she understands how important it is to build and have a network of likeminded Assistants you can turn to for support. Marianne Whitlock is very much a people person through and through and has a interesting sales, marketing and events background as well as a huge passion for fitness. Together, Sarah and Marianne run Strategic PA Recruitment alongside building the PA Network community. Championing the Business Support profession as well as enabling a platform to build an incredibly professional, warm and friendly network.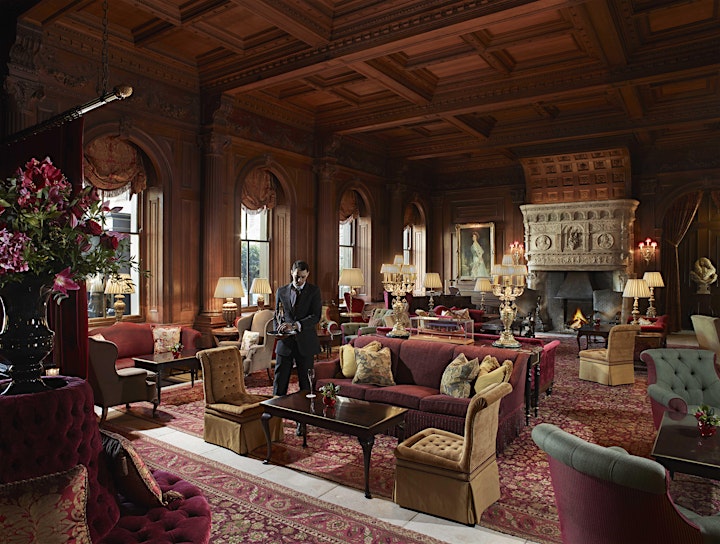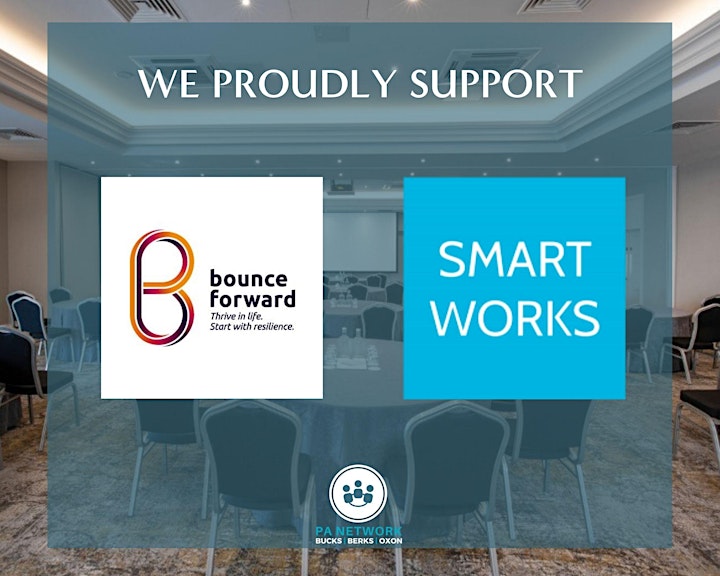 The women who come to Smart Works Reading are referred from Job Centres, mental health charities, women's refuges, homeless shelters, the prison service, care service and youth organisations. Your support means you will play a part in another woman's success story, helping her to gain life-changing employment that benefits her and the community around her. Each client receives a bespoke dressing consultation with two trained volunteers, to find a beautiful and high-quality interview outfit that will fill her with confidence. This is free of charge and the clothes are hers to keep.
A charity that are the experts in delivering practical training for adults and providing high quality teaching materials to develop the psychological fitness of young people.
Bounce Forward works intensively with educators, psychologists, academics and young people to deliver practical, relevant and flexible solutions.
Research is at the heart of their work. All evidence shows that using and modelling psychological fitness is the most powerful way for children to learn.
Bounce Forward:
Trains teachers and parents in the science of developing psychological fitness and how to pass on the skills
Learns about what works in schools and creates the interventions to make a difference
Influences the education system through research to cultivate psychologically fit and emotionally intelligent adults tomorrow
Hospitality Action (HA) has been supporting the UK hospitality industry since 1837. Over the past 180 years, they have helped hundreds of thousands of hospitality people who've found themselves in difficulty or crisis.
HA began life as the London Coffee and Eating House Keepers' Association. In the 1830s, an estimated 1900 coffee shops and stalls traded across the capital. To support the people working in them – and inspired by the licensed trade, which had already created its own benevolent association for publicans – a group of coffee house keepers met at Eastey's Hotel, in London's Covent Garden, and started their own.
Hospitality Action are here for the chefs, waiters, housekeepers and managers. They're here for the concierges, receptionists and kitchen porters. And here for every sommelier, bartender, catering assistant and cook across the UK.
Whether you work in hotels, restaurants, pubs, bars or cafés, schools, hospitals or event venues, they are here to give you the help, advice and support you need whenever times get tough.
Whatever challenge you face – from physical illness or mental health issues to financial difficulty, family problems to addiction – Hospitality Action is here to get you back on your feet again. And when it's no longer possible to work, we can help you prepare for the next phase of your life.
Whatever you do in hospitality, they've got you.