#BBOPANetwork | Chief of Staff | Resilience | 3rd Birthday @ Hilton Reading
23 March @ 6:00 pm

-

9:00 pm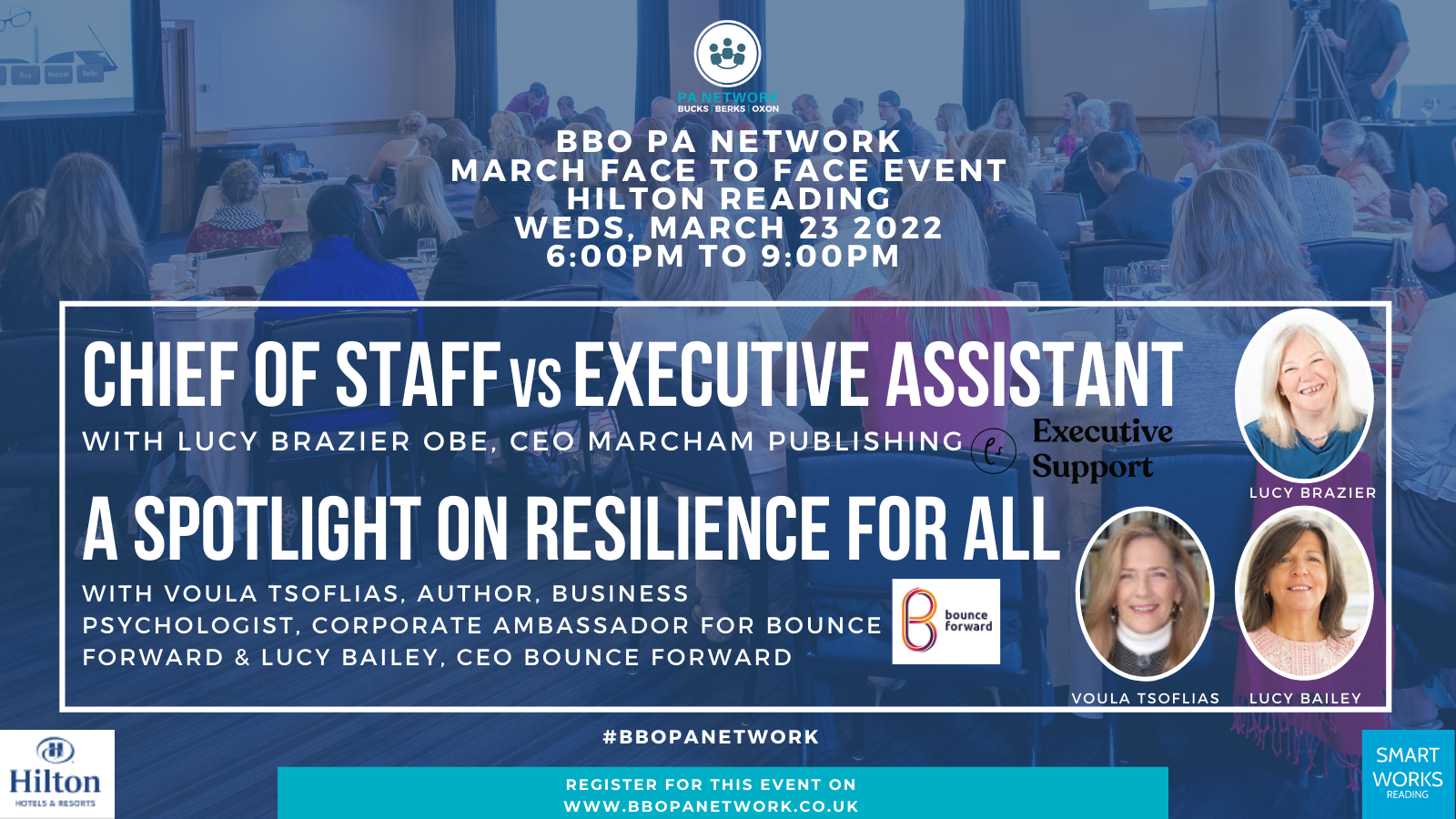 Join us for our 3rd birthday at the Reading Hilton for an evening of learning and development! A great opportunity to come together!
You are cordially invited to attend the Bucks, Berks & Oxon (BBO) PA Network's face to face event on Wednesday, March 23rd at 6pm.
We will welcome our keynote speakers for the evening:
– Lucy Brazier, CEO of Marcham Publishing
– Voula Tsoflias, Author, Business Psychologist, Corporate Ambassador for Bounce Forward & Lucy Bailey, CEO Bounce Forward
OUR KEYNOTE SPEAKER: LUCY BRAZIER, CEO OF MARCHAM PUBLISHING
Lucy Brazier is one of the world's leading authorities on the administrative profession.
As CEO of Marcham Publishing, specialist publishers of Executive Support Magazine – a global training magazine dedicated to the professional development needs of senior and aspiring administrative professionals – Lucy Brazier OBE works with the best trainers of Executive Assistants from around the world to deliver the most up to date and current training in the market.
Her passion is for the Assistant role to be truly recognised as a career and not just a job. Her formidable training expertise and speaking style have given her opportunities to train, present and emcee events in over 50 countries at over 450 events including Chairing the 2015 World Administrator Summit in Papua New Guinea and co-facilitating the same event in Frankfurt in 2018 and online in 2020.
This has created much-needed discussions ranging from encouraging Executive Assistants to work towards becoming centres of excellence within their companies, to explaining why college students should see the Assistant role as a proper profession with a career path. The work being conducted worldwide on career paths, job titles & education for Assistants is one of her key drivers and she is working with some of the most recognisable companies on the planet to consult on restructuring and training their Business Support functions.
Lucy has a unique overview of the role and where it is heading. With access to the most forward-thinking, passionate and knowledgeable trainers and administrative business leaders in the world as well as personally meeting and speaking to literally thousands of Assistants for more than a decade, Lucy's knowledge of the market and what Assistants all over the world are facing on a day-to-day basis are second to none.
Lucy's awards include an OBE (Officer of the Order of the British Empire) awarded in the Queen's Birthday Honours List 2021 for services to office professionals. She has also received an Honorary Fellowship to the Institute of Administrative Management (2018), the YPA Special Award 'International Ambassador for the PA Profession' (2016) & 'PA Contributor of the Year Award' by Office* Show (2015)
The magazine has been a finalist in the PPA Business Magazine of the Year Award, the PPA Media Brand of the Year Award and the PA-Assist Members Awards.
Lucy has worked in publishing for over 30 years. She has previously worked as a Publishing Director for Wilmington PLC as well as for EMAP, The Times, The Independent, Centaur Communications and Glass's Guide.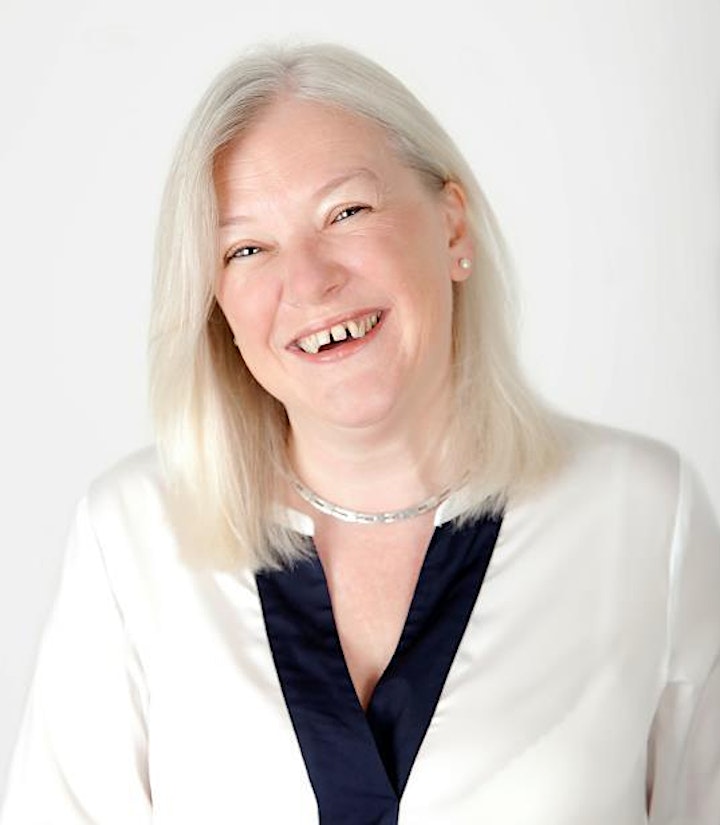 OUR KEYNOTE SPEAKERS: Voula Tsoflias, Author, Business Psychologist, Corporate Ambassador for Bounce Forward & Lucy Bailey, CEO Bounce Forward
Who We Are:
We are Bounce Forward – a charity that are the experts in delivering practical training for adults and providing high quality teaching materials to develop the psychological fitness of young people.
Psychological fitness combines mental resilience and emotional intelligence, the critical skills of the future.
We believe that teaching these skills is essential and should be a core feature of education. Yes in schools, colleges and universities, but also within any development journey.
Founded in 2009, Bounce Forward (formerly How to Thrive) was incubated in its early years within Hertfordshire County Council and became an independent charity in 2016. In 2019 we transformed our approach, working intensively with educators, psychologists, academics and young people to deliver practical, relevant and flexible solutions.
Our core principles:
Psychological fitness combines mental resilience and emotional intelligence, key attributes needed for success in the 21st century.
Sound research, theory and evidence informs everything we do.
We teach skills and strategies that work in the real world.
The adults matter: their role is vital in helping children and young people to be psychologically healthy.
The personal development of young people is as important in society as academics.
Create the conditions for a radically reimagined 21st century where young people drive the change towards more helpful and less harmful behaviour.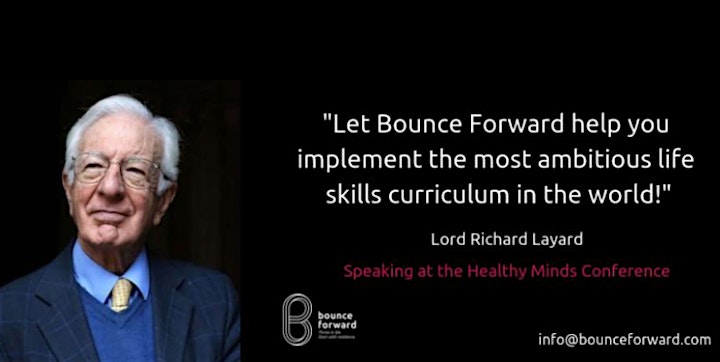 BBO PA NETWORK EVENING FORMAT
6pm – Arrivals & Informal Networking
6:45pm – Welcome & Introductions
7:00pm – Keynote 1 – Lucy Brazier OBE – Executive Support / Marcham Publishing
7:45pm – Keynote 2 – Voula Tsoflias & Lucy Bailey – Bounce Forward
8:25pm – Close, Informal Networking
BBO PA NETWORK CHARITY PARTNER – SMART WORKS READING – HOW YOU CAN HELP!
Smart Works is a UK charity that provides high-quality interview clothes and interview training to unemployed women in need. They harness the power of clothes and confidence to allow a woman to be her best at a crucial moment in her life, giving her the confidence, the self-belief and the practical tools required to succeed at interview and transform her life.