BBO PA Network ONLINE – Toni Kent 'It's Too Risky' – 18/02/21
18 February @ 7:30 pm

-

9:00 pm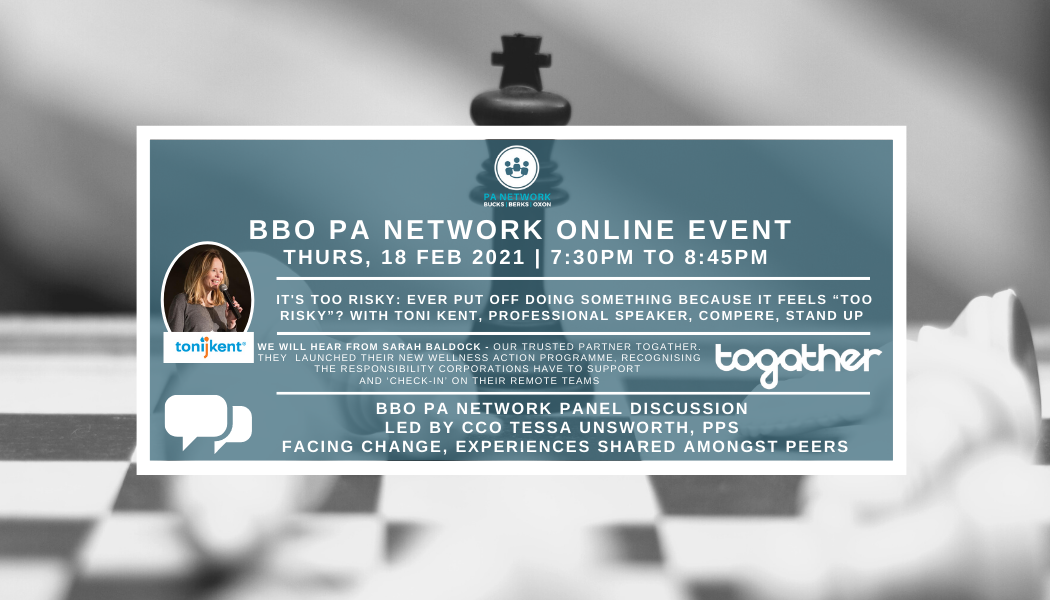 Join us for: 'It's Too Risky' with Toni Kent, Sarah Baldock from togather & BBO Panel 'Managing Change as an Executive Assistant'.
You are cordially invited to attend the Bucks, Berks & Oxon (BBO) PA Network's event on Thursday, 18th February 2021 at 7:30pm.
We will welcome our speakers for the evening:
Sarah Baldock, MD of togather, our BBO Trusted Partner
togather launched last year with a passion for reconnecting and motivating remote working teams.
This January, togather launched their new Wellness Action programme, recognising the responsibility corporations have to support and 'check-in' on their remote teams.
togather's expert team of event and marketing professionals have partnered with experts in the areas of Business, Personal and Wellness Development, to offer Wellness Actions Plans personalised their team's needs. The plan comprises a range of on and offline activities over a period time, to help employees not just survive, but thrive, in this brave new world.
Toni Kent, Professional Speaker, Author& Compere, with her keynote, 'It's Too Risky'
Ever put off doing something because it feels 'too risky'? Let Toni help you with that.
During times of uncertainty we tend to hang on to the familiar; becoming afraid to implement changes or pursue opportunities.
Throughout her life, Toni has created significant change in challenging circumstances and uses her experiences to help others break through the fear and go for what they really want.
By combining complete honesty with humour, Toni offers an upbeat approach to reframing fear and gives you a takeaway you can use to plan your own change.
"Exceeded my expectations in every way" – Helen F, Public Sector Partners, Amazon Web Services
We will also welcome a BBO PA Network Discussion Panel: 'Managing Change & Taking Risks as an Executive Assistant' with Tessa Unsworth, Chief Commercial Officer – Group Services, PrePay Solutions along with Executive Assistants, Karen Harris, Sandrine Shai and Rachel Elewe
OUR KEYNOTE SPEAKERS
ABOUT TONI KENT: Toni Kent is a professional speaker, compere and stand up comedian who has the rare combination of 20+ years IT industry experience and the ability to entertain large audiences with honest, humorous insights into social mobility, life as a working parent and being a woman in IT.
Clients include tech companies, investment banks and membership organisations. She is also the official event compere for Smart Works Reading – a charity that helps women return to the work place via free interview coaching and clothing.
Alongside compering and stand up duties, Toni delivers workshops on how to embrace change even when it feels too risky and writes regular features for We Are The City and Women in Tech. www.tonikent.co.uk
ABOUT TESSA UNSWORTH: Tessa Unsworth is PPS' Chief Commercial Officer. Since joining in 2004, Tessa has helped cultivate PPS' client partnerships, business and product development, platform architecture, and core operations.
An innovative thinker, expert in fintech, and payments trailblazer, Tessa has created and delivered key initiatives that have made a tremendous contribution to both PPS and the industry.
Respected for her contribution to the retail and payments sector, Tessa is joined the Emerging Payments Association advisory board in 2018 and is an active member of the Gift Card and Voucher Association's executive committee. Tessa is also a supporter of the European Women in Payments Network, pioneering innovation and nurturing rising talent.
BBO PA NETWORK EVENING FORMAT
7:20pm – Get 'Online' – Log on and get settled ready for a 7:30pm start, make sure you have your drink of choice in your favourite mug/glass!
7:30pm – Welcome and Introduction by Sarah & Marianne, BBO PA Network
BBO CSR Member of the Month #BBOCSRChampion
Introduction to BBO Trusted Partner Togather – Sarah Baldock
Keynote Speaker – Toni Kent 'It's Too Risky'
BBO PA Network Discussion Panel: 'Managing Change & Taking Risks as an Executive Assistant' led by Tessa Unsworth
Approx 8:45pm – Finish / 'After Show Catch Up' / Informal Networking – for those who would like to stay on and have a catch up!