BBO PA Network ONLINE – Richard Collins 'CSR' – 15/07/21
15 July @ 7:30 pm

-

9:00 pm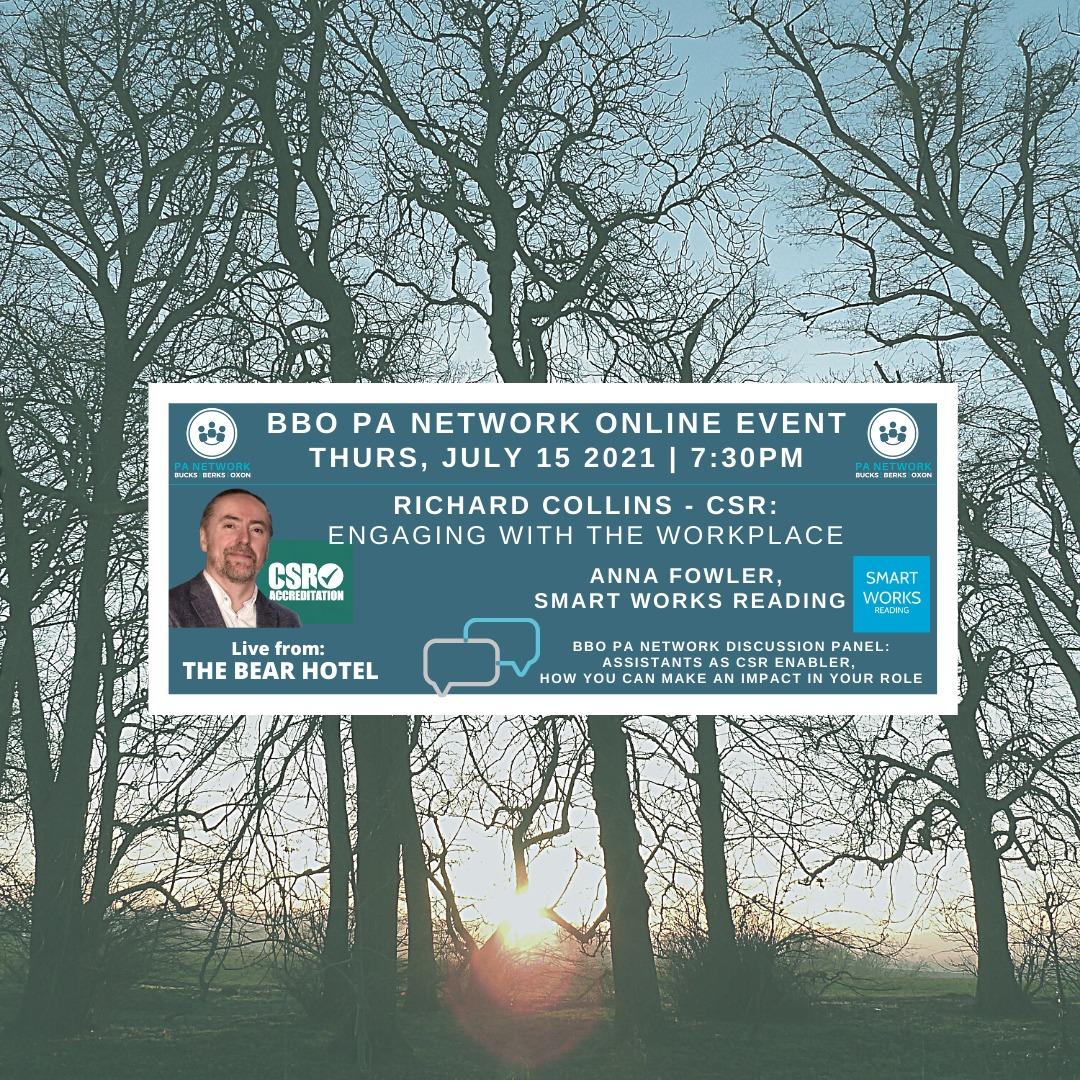 Join us for: Richard Collins 'Corporate Social Responsibility' and Anna Fowler 'Smart Works Reading' plus a BBO PA Network 'CSR' panel.
You are cordially invited to attend the Bucks, Berks & Oxon (BBO) PA Network's online event on Thursday, 15th July 2021 at 7:30pm hosted LIVE from Macdonald Bear Hotel in Oxfordshire.
Macdonald Bear Hotel is one of the finest 4-star hotels in Oxfordshire and offers a beautiful slice of luxury in the heart of the countryside. Set in Woodstock, in what was once a 13th century coaching inn, the hotel combines history and culture with exceptional facilities. With direct access to the historic city of Oxford, the hotel is a popular choice for leisure breaks, business and weddings.
"Our hotel is a perfect venue for celebrations, events and conferences; we boast superb hotel accommodation, stylish meeting and function rooms, peaceful views over the courtyard and stunning period features.
Our hotel in Oxfordshire is perfect for a relaxing retreat. Roam the historic city of Oxford and marvel in the dreaming spires or linger in the city's many shops and museums. Once you've finished exploring – we recommend a visit to our award-winning restaurant and bar for the finest of fares and a well deserved nightcap."
We will welcome our speakers for the evening:
Richard Collins, CSR-A with 'CSR: Engaging With The Workplace'
Understand CSR, know the benefits of it for you personally but also for your organisation.
Richard's keynote presentation is renowned for being informative and thought provoking.
If you are interested in ethical and socially responsible corporate behaviour please do register to attend this BBO PA Network webinar.
It is becoming increasingly important for all businesses to be socially responsible as well as business responsible. Corporate Social Responsibility (CSR) is much more than just giving to charity; it can underpin and transform a company culture. Executive Assistant's SHOULD understand the role they play and be part of the conversation.
It benefits public perception, attracts customers, suppliers and especially employees. Richard will lead an interactive workshop where he explains ways in which your business can become more socially responsible and outline the business benefits of adopting this strategy.
This talk will also explore the four pillars of CSR, and what we can all do influence good CSR policies and drive corporate change. With well-defined objectives and measurable targets, your organisation's approach to CSR will provide the foundation for steps towards running a more sustainable and ethical business.
We will also welcome Anna Fowler from Smart Works Reading
Smart Works is a UK charity that provides high-quality interview clothes and interview training to unemployed women in need. They harness the power of clothes and confidence to allow a woman to be her best at a crucial moment in her life, giving her the confidence, the self-belief and the practical tools required to succeed at interview and transform her life.
Smart Works Reading opened in October 2015 with a vision of bringing the dressing and interview coaching service to women within the Thames Valley. Smart Works Reading is thriving, opening five days a week (4 days for client appointments), and delivering over 350 appointments in the last year. They are incredibly proud to report that in Reading their success rate remains high with over 1 in 2 of their clients going on to succeed at their job interview.
We would LOVE for you to start stockpiling all of the items below because there WILL be future events and you WILL be able to donate again:
Large handbags (big enough to ideally fit an A5 CV copy, in good condition)
Smart business suits/workwear size – all sizes (what you'd be happy wearing to an interview)
Flat work shoes all sizes (again, interview worthy)
Toiletries (if you could ask your travelling colleagues to start collecting for next time, then great!)
Any sample or unopened perfume, lipsticks, mascaras etc… something to fill a little goody bag
OUR KEYNOTE SPEAKERS
ABOUT RICHARD COLLINS : Richard Collins is the Founder of CSR-A.
Promoting brand reputation and Corporate Social Responsibility to build ethical and caring organisations
As an experienced brand strategist Richard has pursued a passion for helping companies in the public, private and third sector to promote their brand reputation and CSR activity.
Richard founded Ecobrand in 2011 which specialises in brand reputation, which helps organisations promote their CSR and sustainability efforts as an integral part of their brand personality. To complement this he also runs the International CSR Excellence Awards.
This eventually led to the development and launch of CSR-A in 2018, which provides the UK's only National CSR-Accreditation Scheme. Since then CSR-A has developed CSR Training and Workshops, Social Impact Reporting and a CSR programme for primary and secondary schools.
He is president for the Thames Valley Chamber of Commerce 'Bucks' Council, a member of the Society of Leadership Fellows and a Trustee for the Heart of Bucks – Community Foundation for Buckinghamshire.
Connect and follow him on LINKEDIN HERE!
ABOUT ANNA FOWLER: Anna is the Development & Fundraising Manager for Smart Works Reading.
Anna is responsible for raising & managing all funds through events and grants, as well as developing partnerships across the Thames Valley with corporates, retailers & supporters. She also manages Smart Works Reading's volunteer communications team and all external comms.
BBO PA NETWORK EVENING FORMAT
7:25pm – Get 'Online' – Log on and get settled ready for a 7:30pm start, make sure you have your drink of choice in your favourite mug/glass!
7:30pm – Welcome and Introduction by Sarah & Marianne, BBO PA Network
7:35pm – Introduction to BBO Trusted Partner Supplier The Macdonald Bear Hotel
7:40pm – BBO CSR Members of the Month June AND July #BBOCSRChampion
7:45pm – First Keynote Speaker – Richard Collins 'CSR: Engaging With The Workplace'
8:15pm – Second Keynote Speaker – Anna Fowler 'Smart Works Reading'
8:30pm – BBO PA Network 'CSR' Panel
8:45pm – Finish / 'After Show Catch Up' / Informal Networking – for those who would like to stay on and have a catch up!