BBO PA Network ONLINE – Malcolm Taylor 'Finance for Assistants' – 22/04/21
22 April @ 7:30 pm

-

9:00 pm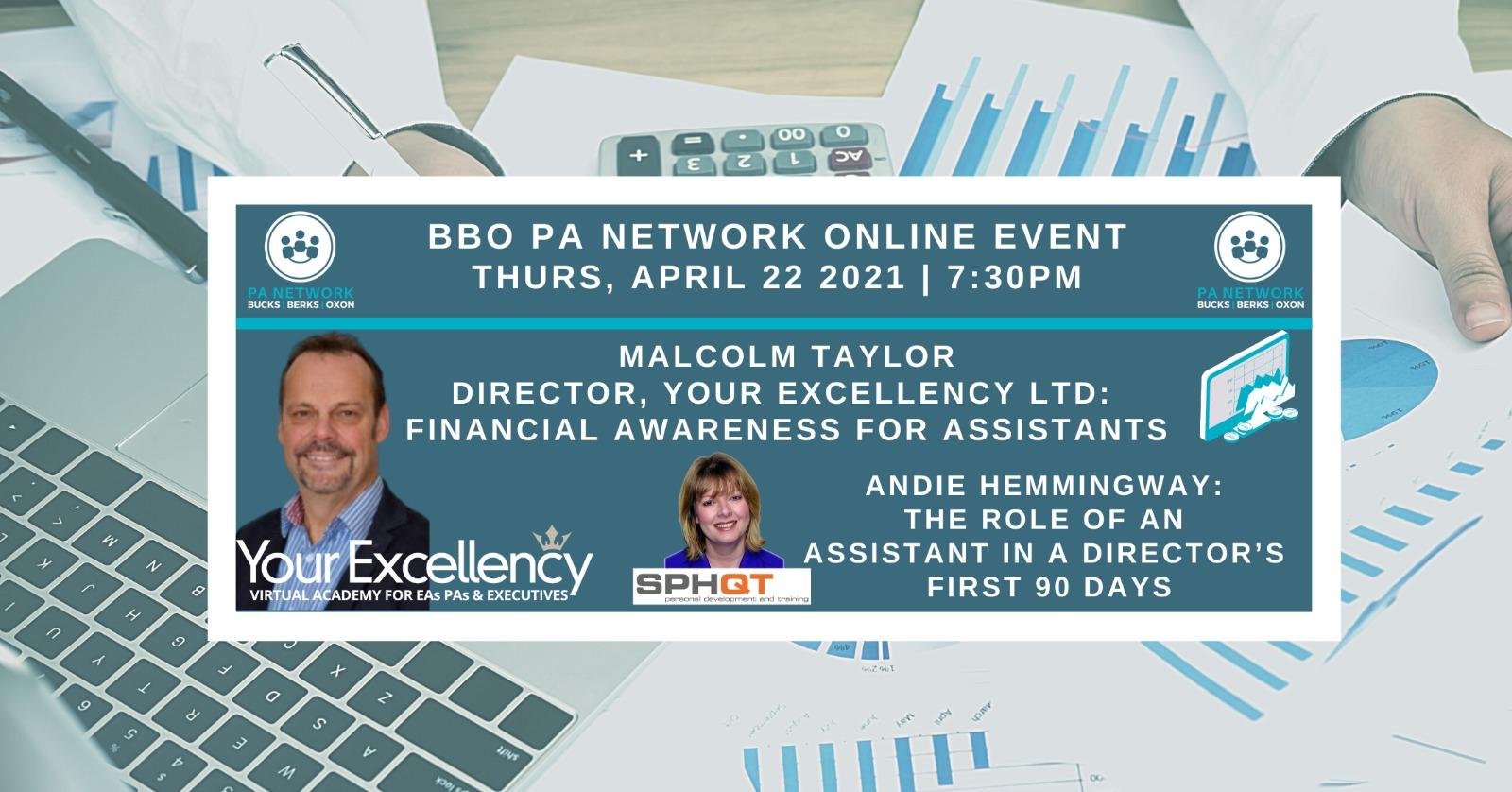 Join us for: 'Financial Awareness for Assistants' with Malcolm Taylor & 'The Role of a PA in Director's First 90 days' with Andie Hemming
You are cordially invited to attend the Bucks, Berks & Oxon (BBO) PA Network's event on Thursday, 22nd April 2021 at 7:30pm.
We will welcome our speakers for the evening:
Malcolm Taylor, Director at Your Excellency Ltd with 'Financial Awareness for Assistants'
Do you find the world of finance a mystery?
Is there too much jargon?
Are those financial reports a tidal wave of numbers and strange language?
Join us for a fun packed (yes! finance can be fun!) Financial Awareness Taster Session to begin your journey to demystifying all of the above.
Once you understand a few basic principles and some common terminology then it will all start to become clearer.
Who is it for?
EAs, PAs & Administrators who want to add business financial awareness to their existing knowledge and skill sets.
What will you learn?
• Managing & reporting business performance with a Profit & Loss Statement (P&L)
• Understanding business wealth
• Awareness of common financial terminology
• An opportunity for Q&A at the end of the session
What do you need to know?
This interactive session will be run over Zoom. It is an introduction to business finance and no previous knowledge is required. It will give you enough confidence and encouragement to want to learn more.
We will also welcome Andie Hemming, Director at SPH Qualitech Ltd with 'The Role of a PA in a Director's First 90 days'
The first 90 days in a new role is a critical period for anyone making the transition to a senior role or moving into a new business area. What someone does – and how well they do it – during this time will have a significant effect on how successful they are in their new role – you never get a second chance to make a first impression! In this seminar Andie will talk about the principles which inform success in the first 90 days and how you as a PA can contribute to and enhance this.
OUR KEYNOTE SPEAKERS
ABOUT MALCOLM TAYLOR: Malcolm Taylor, Founder & Director of Your Excellency Ltd, is a trainer specialising in leadership development & commercial awareness. Prior to establishing Your Excellency in 2007 he held a number of senior finance and operations roles across Europe, North America & Asia. His friendly, practical approach to learning allows participants to take learning back into the work place and make it instantly useable.
ABOUT ANDIE HEMMING: Andie is an executive coach and training consultant with experience in a wide range of commercial environments including luxury fashion retail, pharmaceuticals, finance, insurance, online media, IT, automotive, banking and engineering.
Andie's main focus is coaching and personal development for directors, senior and board-level managers and senior professionals. She has coached and trained directors and senior managers in some of the largest and most successful companies in the UK, US and Europe; and has designed and delivered coaching and training programmes covering all areas of management and personal development.
BBO PA NETWORK EVENING FORMAT
7:20pm – Get 'Online' – Log on and get settled ready for a 7:30pm start, make sure you have your drink of choice in your favourite mug/glass!
7:30pm – Welcome and Introduction by Sarah & Marianne, BBO PA Network
7:40pm – Introduction to BBO Trusted Hotel / Supplier Partner
7:50pm – BBO CSR Member of the Month #BBOCSRChampion
8:00pm – Keynote Speaker – Malcolm Taylor 'Finance for Executive Assistants'
8:30pm – Keynote Speaker – Andie Hemming 'The Role of a PA in a Directors First 90 Days'
9:00pm – Finish / 'After Show Catch Up' / Informal Networking – for those who would like to stay on and have a catch up!