BBO PA Network ONLINE – Lucy Brazier 'Strategic?' – 04/03/21
4 March @ 7:30 pm

-

9:00 pm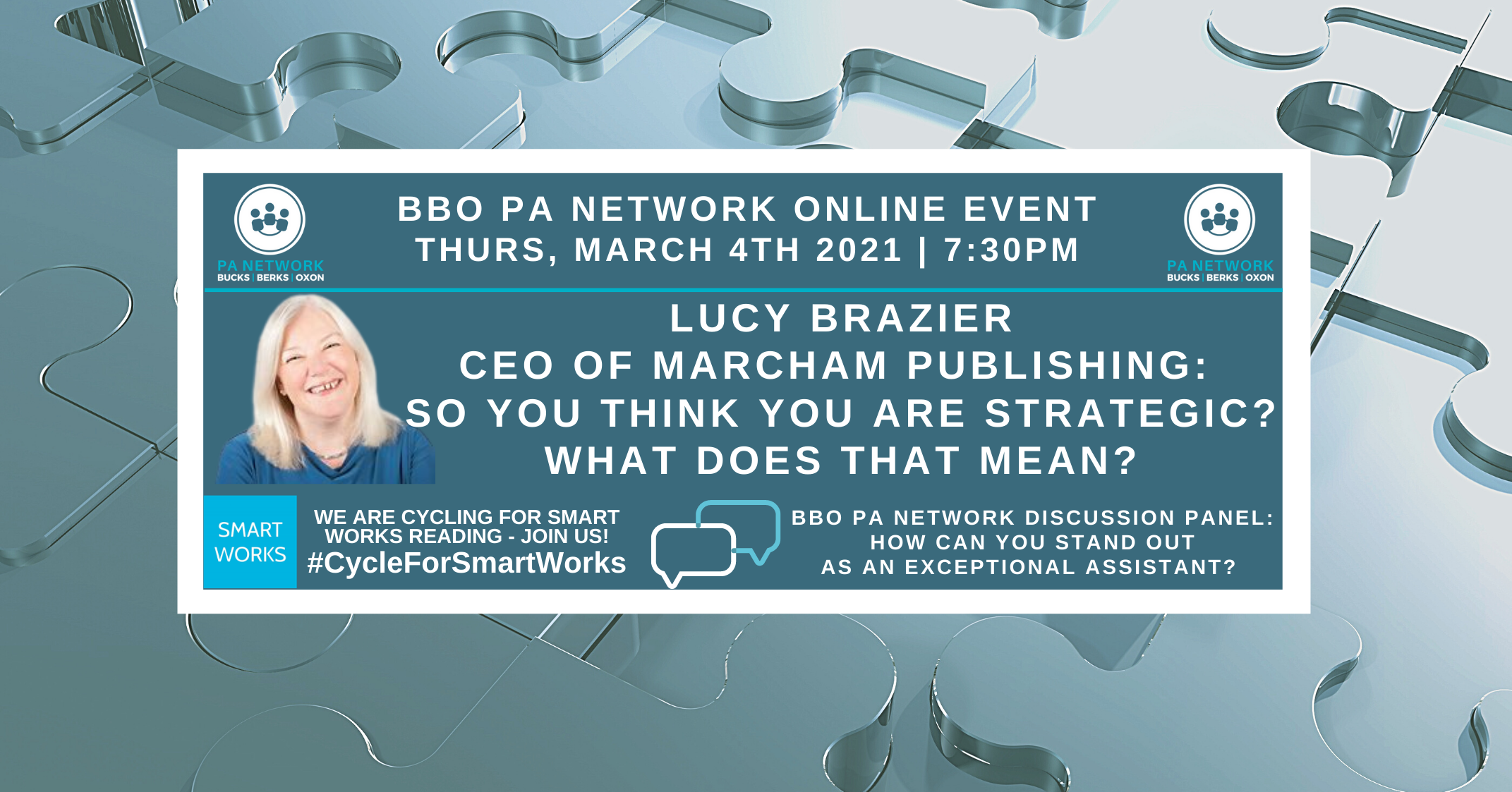 OUR KEYNOTE SPEAKER, LUCY BRAZIER, CEO MARCHAM PUBLISHING: "SO YOU THINK YOU ARE STRATEGIC? WHAT DOES THIS MEAN?" PLUS JOIN OUR BBO PANEL!
You are cordially invited to attend the Bucks, Berks & Oxon (BBO) PA Network's online event on Thursday, 4th March 2021 at 7:30pm.
We will welcome our keynote speaker for the evening:
Lucy Brazier, CEO of Marcham Publishing
Lucy will be joining us once again with her keynote 'So You Think You Are Strategic? What Does That Mean?'
*We will have a one-year digital subscription to Executive Secretary magazine to giveaway*
We are also excited to announce that we will also be welcoming a BBO PA Network Panel led by BBO PA Network Committee Member, Executive Assistant & Founder of Oculus Creative Learning, Samina Azam. Our panel addresses the question: How can you stand out as an EXCEPTIONAL Executive Assistant?
We are also excited to introduce our BBO Supplier Partner of the month, Escape Team Events with Matt Culley. We have a special VIP BBO invitation to share with you!
OUR KEYNOTE SPEAKER/THEME FOR THE EVENING: LUCY BRAZIER, CEO OF MARCHAM PUBLISHING
'So You Think You Are Strategic? What Does That Mean?':
Much has been made in recent times of the emergence of the Assistant as a Strategic Business Partner. The term is THE buzz word in the industry. But how do you become strategic? What does it mean? How do you change your day to day role to become the Assistant that your Executive needs in order to deliver at the highest levels? In this keynote session, Lucy Brazier will look at how to develop your business acumen to best support your executive and what skills are required to futureproof your career in a post-COVID / AI world.
Learning objectives:
Knowing is not the same as understanding! Learn how to understand your business
Explore what you need to know in order to support your Executive at the highest level
Understand your executive's personality and learning styles to ensure maximum return of investment from your partnership
Lucy Brazier is one of the world's leading authorities on the administrative profession.
As CEO of Marcham Publishing, specialist publishers of Executive Secretary Magazine – a global training magazine dedicated to the professional development needs of senior and aspiring administrative professionals – Lucy works with the best trainers of Executive Assistants from around the world to deliver the most up to date and current training in the market.
Her passion is for the Assistant role to be truly recognised as a career and not just a job. Her formidable training expertise and speaking style have given her opportunities to train, present and Chair in over 45 countries at hundreds of events. This has created much needed discussions across the globe on how to professionalise the role. Lucy has also acted as a consultant on career progression, the future of the role and how Executives/ Assistants can best partner with each other, with some of the biggest companies in the world.
Lucy has a unique overview of the role and where it is heading. With access to the most forward thinking, passionate and knowledgeable trainers in the world as well as personally meeting and speaking to literally thousands of Assistants over the last seven years, Lucy's knowledge of the market and what Assistants all over the world are facing on a day to day basis are second to none.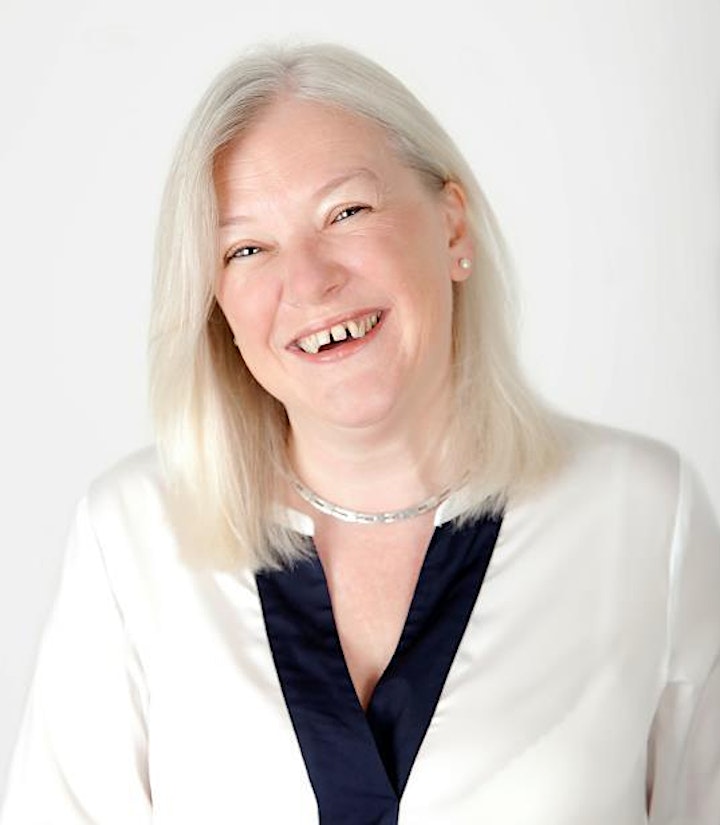 INTRODUCING THE BBO PA NETWORK DISCUSSION PANEL LED BY SAMINA AZAM:
The panel will be discussing the following topic which leads on perfectly from Lucy Brazier's keynote:
How can you stand out as an EXCEPTIONAL Executive Assistant?
INTRODUCING THE BBO PA NETWORK SUPPLIER PARTNER OF THE MONTH 'ESCAPE TEAM EVENTS' WITH MATT CULLEY:
ABOUT MATT: Matt lives to engage with people; whoever they are. Matt first started his career in the world of Fine Art at a small independent art gallery that he helped grow into a thriving group of Art Galleries and Winning "Fine Art Retailer of the Year" award in the process. Moving on after achieving all of his goals Matt went into the construction industry and into business development where he honed his B2B skills whilst running a company within the hospitality industry alongside feeding his love of engaging with everyone. In 2015 a move to the midlands had him back in the fine art world as a regional fine art dealer for the world's largest fine art publisher until he found a live for live and virtual events where he has stayed working for Merlin Entertainments the world's 2nd largest entertainment company and Now Escape Team Events providing virtual solutions to Blue Chip Companies as well as your SME's and independent Businesses.
ABOUT ESCAPE TEAM EVENTS: Companies and employees have been separated into working in silos from home, this has undoubtedly changed the way companies and team members communicate. Virtual platforms such as Zoom, Teams and Skype have become the norm but keeping people driven, motivated and part of the business or organisation is a challenge. All of our hosted virtual events are designed to deliver engaging team building, motivation and fun.
BBO PA NETWORK EVENING FORMAT
7:20pm – Get 'Online' – Log on and get settled ready for a 7:30pm start, make sure you have your drink of choice in your favourite mug/glass!
7:30pm – Welcome and Introduction by Sarah & Marianne, BBO PA Network
7:35pm – Introduction to BBO Trusted Supplier 'Escape Team Events', Matt Culley
7:40pm – BBO CSR Member of the Month #BBOCSRChampion
7:45pm – Keynote Speaker – Lucy Brazier 'So You Think You Are Strategic? What Does That Mean?'.
*We will have a one-year digital subscription to Executive Secretary magazine to giveaway*
8:30pm – BBO PA Network Discussion Panel: How can you stand out as an EXCEPTIONAL Executive Assistant?
8:45pm – Finish / 'After Show Catch Up' / Informal Networking – for those who would like to stay on and have a catch up!
BBO PA NETWORK CHARITY PARTNER – SMART WORKS READING – HOW YOU CAN HELP!
Smart Works is a UK charity that provides high-quality interview clothes and interview training to unemployed women in need. They harness the power of clothes and confidence to allow a woman to be her best at a crucial moment in her life, giving her the confidence, the self-belief and the practical tools required to succeed at interview and transform her life.
We are cycling for Smart Works Reading and would love you to join us if you'd like to take part!