BBO PA Network ONLINE Social Event – 2nd BBO Birthday Celebration
24 March @ 7:45 pm

-

9:15 pm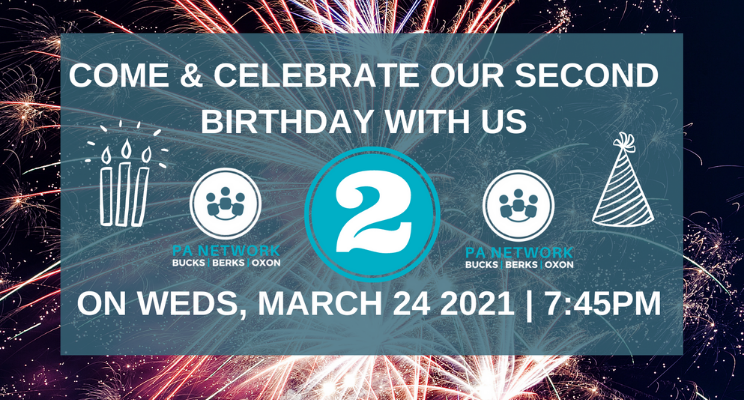 An evening of FUN! Come and join us for: 'BBO PA Network's 2nd Birthday Celebration' with ROGUE AGENT courtesy of Escape Team Events
You are cordially invited to attend the complimentary Bucks, Berks & Oxon (BBO) PA Network's 2nd Birthday Celebration event on Wednesday 24th March 2021 at 7:30pm.
Our 2nd Birthday Celebration is a complimentary event however we would LOVE for you to make a small donation if you are able to, which will go directly to Smart Works Reading (our charity partner) and the extremely valuable work they do!
We are delighted to be working with Escape Team Events, a BBO PA Network Trusted Partner, for our exciting birthday event.
Whilst saving the world from all manner of terrorists and threats, a Rogue MI5 Agent has been growing his personal art collection and not entirely legitimately. The unknown agent has been stealing art and sculptures from across the globe.
MI5 is onto him though, but no one within the agency can be trusted. As the newest recruits to the agency, it falls on you to uncover the identity of the Rogue Agent, collate the evidence against him and advise the agency of his whereabouts.
In order to do this, you will be given access to the Government's secret online portal which you must use to complete the case.
OUR HOST FOR THE EVENING
ABOUT ESCAPE TEAM EVENTS: Companies and employees have been separated into working in silos from home, this has undoubtedly changed the way companies and team members communicate. Virtual platforms such as Zoom, Teams and Skype have become the norm but keeping people driven, motivated and part of the business or organisation is a challenge. All of our hosted virtual events are designed to deliver engaging team building, motivation and fun.
OUR CHARITY PARTNER
ABOUT SMART WORKS READING: Smart Works Reading is our nominated charity. Smart Works is a UK charity that provides high quality interview clothes and interview training to unemployed women in need. They harness the power of clothes and confidence to allow a woman to be her best at a crucial moment in her life, giving her the confidence, the self-belief and the practical tools required to succeed at interview and transform her life. If you are able to, we would LOVE for you to start collecting the following items you'd be able to donate:
* Large handbags (big enough to ideally fit an A5 CV copy in, in good condition)
* Smart business suits/work wear any size (what you'd be happy wearing to an interview)
* Smart coats/jackets all sizes
* Flat work shoes all sizes
* Toiletries (if your boss travels a lot please ask him/her to start collecting)
* Unopened lipsticks, perfumes, body sprays suitable for a little goody bag
Do start stockpiling! When we meet again there will be a collection box available for you, it's a very worthwhile cause and not only that – all of the Smart Works Reading team are LOVELY to be around.
BBO PA NETWORK EVENING FORMAT
7:40pm – Get 'Online' – Log on and get settled ready for a 7:45pm start, make sure you have your drink of choice in your favourite mug/glass!
7:45pm – Welcome and Introduction by Sarah & Marianne, BBO PA Network before handing over to BBO Trusted Supplier Partner Escape Team Events to enjoy our experience!
9:00pm – Finish / 'After Show Catch Up' / Informal Networking – for those who would like to stay on and have a catch up!