BBO PA Network ONLINE – Andrew Thorp 'Owning & Telling Your Story'-24/06/21
24 June @ 7:30 pm

-

9:00 pm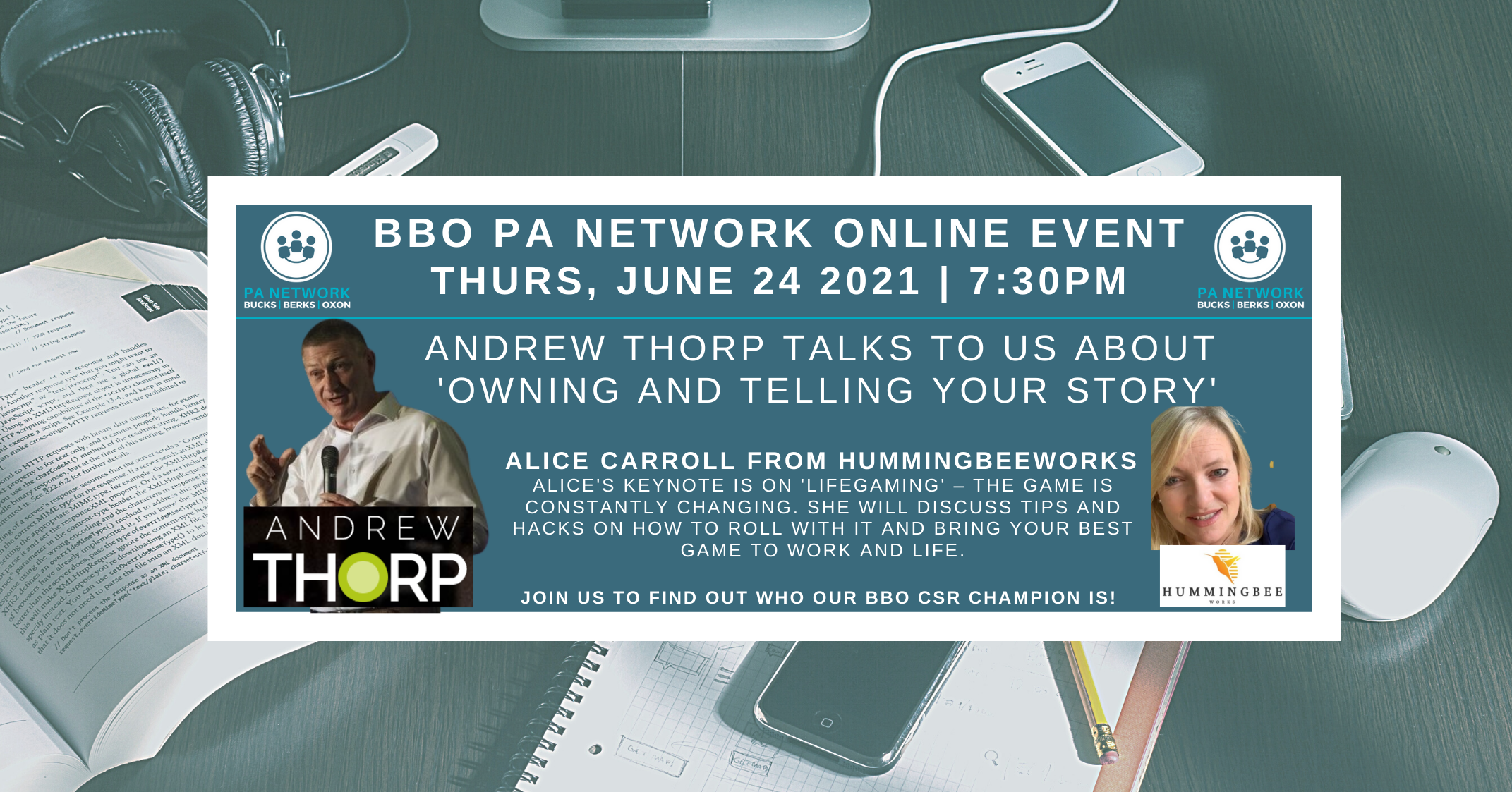 Join us for: 'Owning & Telling Your Story' with Andrew Thorp & 'Lifegaming' with Alice Carroll
You are cordially invited to attend the Bucks, Berks & Oxon (BBO) PA Network's online event on Thursday, 24th June 2021 at 7:30pm.
We will welcome our speakers for the evening:
Andrew Thorp, Owner of MojoLife Ltd
'Owning and Telling your Own Story'
In this talk, Andrew will explain how to use storytelling to establish yourself as someone worth listening to. It encompasses skills like telling an anecdote, packaging a proposition, using metaphors and writing insightful blog posts. "Storytelling is the difference between informing and inspiring," explains Andrew. "It's a communication superpower and can be transformative both in the workplace and beyond."
We will also welcome Alice Carroll, Founder of Hummingbeeworks
'Lifegaming'
Alice's keynote is on 'Lifegaming' – the game is constantly changing. She will discuss tips and hacks on how to roll with it and bring your best game to work and life.
Alice invites you to explore our lives and job in terms of a game. Helping us to identify and connect with our purpose, the "rules" we wish to live by and how to play to our strengths. Some empowering and grounding ideas on how to hang on to "ourselves" in an ever changing world.
OUR KEYNOTE SPEAKERS
ABOUT ANDREW THORP: Andrew runs how own company and is an award-winning speaker, consultant and trainer specialising in business storytelling and interpersonal skills. Based in North West England but working internationally, his clients include the Big 4 accountants, Swiss Re and the European Parliament, plus a range of UK SME's, individual consultants and professionals.
ABOUT ALICE CARROLL: Alice is the Founder of Hummingbee Works Ltd and is a Coach, trainer, NLP practitioner, champion of all things people. She is positive, energising, candid and open.
Hummingbee has 40 years of experience and success in the field of people development and people championing. Their values guide them in their purpose: to spread Mental Wealth as far and wide as they can.
This is what Alice truly believes;
When we invest in people to play their best game, they will raise their game… and the rest will rise with it!
The key to this is investing in everyone's #mental-wealth.*
Hummingbee Works collaborates with organisations who realise the value in this investment and runs individual and group coaching programmes to create self-awareness, forge connections and to help people build the resilience to navigate tough times and the capacity to thrive.
Champion of all things people – Alice has spent over 20 years in the training and coaching arena.
She draws on all her experiences and lessons learnt from work and life; from being an in-house People and Training Director, to running her own Training and Coaching business, whilst also chasing her tail somewhat as a single mother of 3 teenagers and 2 loopy dogs.
She "brings it all" to everything she does; warmth, candour, energy and a capacity to create spaces where people feel able to connect and explore challenges together.
www.hummingbeeworkscom
*Mental Wealth as defined by Hummingbee Works in the Urban Dictionary https://www.urbandictionary.com/define.php?term=Mental%20Wealth
BBO PA NETWORK EVENING FORMAT
7:25pm – Get 'Online' – Log on and get settled ready for a 7:30pm start, make sure you have your drink of choice in your favourite mug/glass!
7:30pm – Welcome and Introduction by Sarah & Marianne, BBO PA Network
7:35pm – Introduction to BBO Trusted Partner
7:40pm – BBO CSR Member of the Month #BBOCSRChampion
7:45pm – First Keynote Speaker – Andrew Thorp 'Owning And Telling Your Own Story'
8:15pm – Second Keynote Speaker – Alice Carroll 'Life Gaming'
8:45pm – Finish / 'After Show Catch Up' / Informal Networking – for those who would like to stay on and have a catch up!