BBO PA Network ONLINE – Alice Dartnell '2021 Goalsetting' – 14/01/21
14 January @ 7:30 pm

-

9:00 pm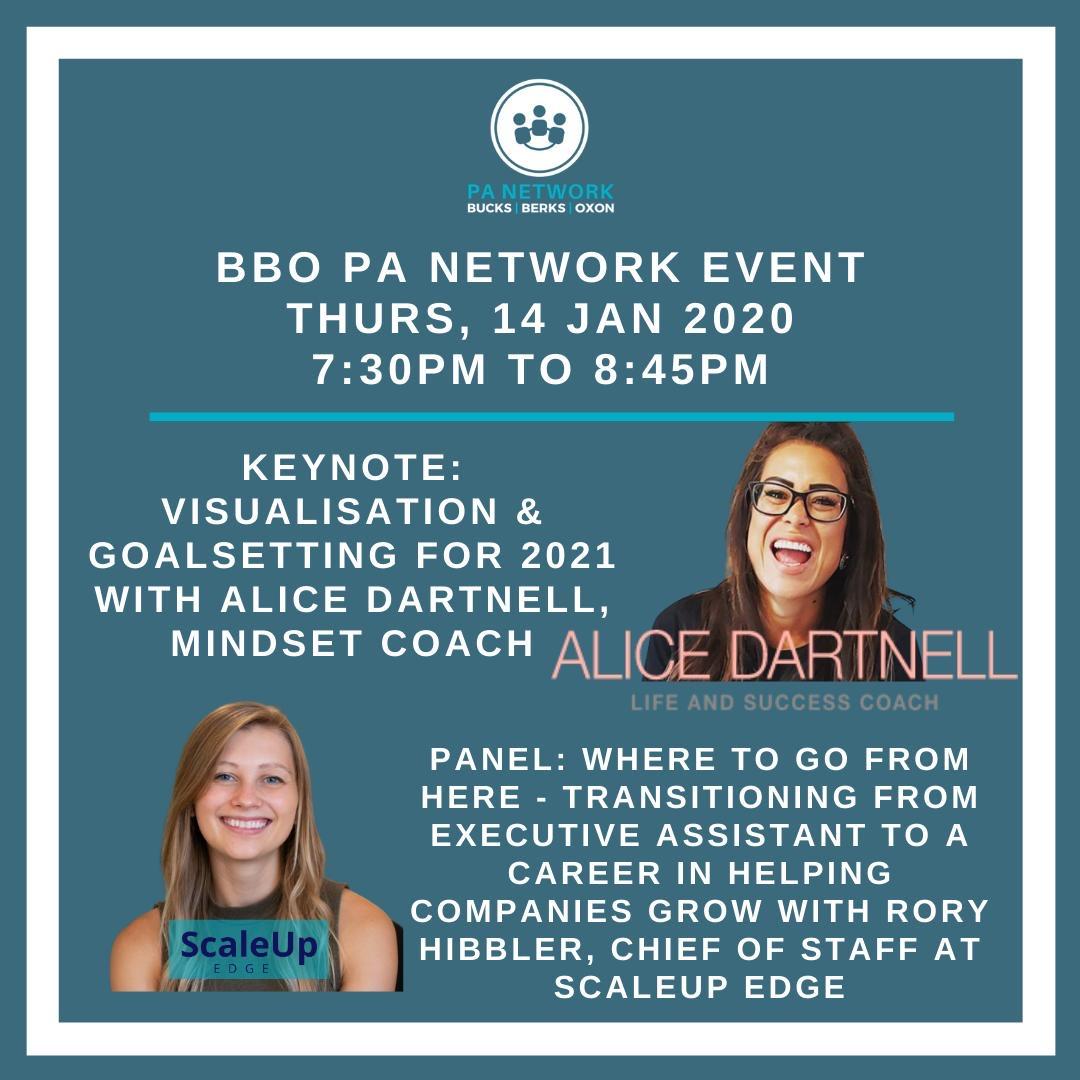 Join us for: 'Visualisation & Goalsetting for 2021' with Alice Dartnell & 'Transitioning from an EA to Chief of Staff' with Rory Hibbler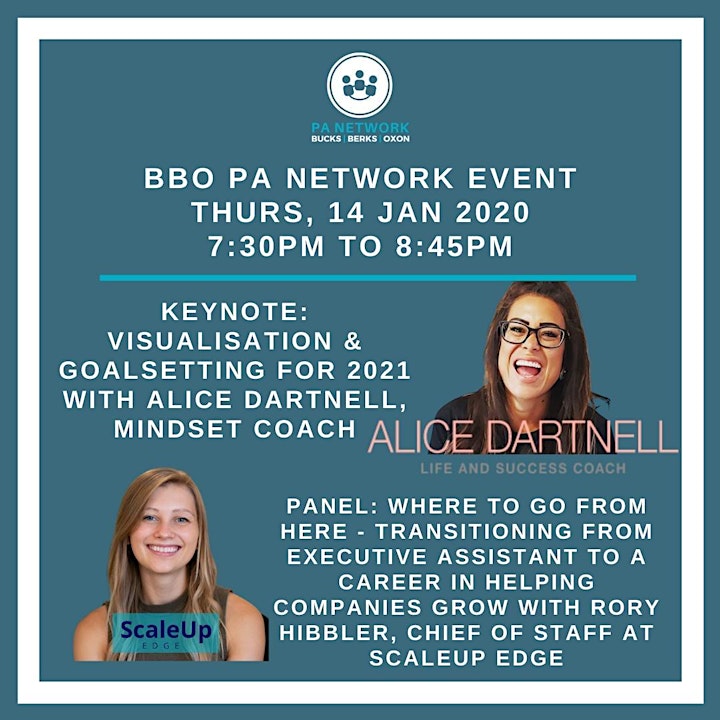 You are cordially invited to attend the Bucks, Berks & Oxon (BBO) PA Network's event on Thursday 14th January 2021 at 7:30pm.
We are thrilled to announce Sarah & Marianne will be hosting the online event LIVE from a Trusted BBO Hotel Partner.
We will welcome our speaker for the evening:
Alice Dartnell, Mind Coach with her KEYNOTE 'Visualisation & Goalsetting for 2021'
Alice will take us through the super powerful art of visualisation and show us how to start 2021 as we mean to go by setting achievable goals!
We will also welcome Rory Hibbler with her presentation 'Where to Go From Here – Transitioning from Executive Assistant to a Career in Helping Companies Grow'
Your experience as an EA is invaluable for the rest of your career – learn to lean on it and also grow from it
How to transition a career when you're ready
Facing challenges that can arise from the transition of role
OUR KEYNOTE SPEAKERS
ABOUT ALICE DARTNELL:
Hi, I am Alice, a Life and Success Coach with a passion for empowering individuals and organisations to reach their full potential. I am of course the founder of the company Alice Dartnell Limited, specialising in time management & productivity and empowering a 'success mindset'.
I deliver training and coaching packages to forward-thinking organisations who know the importance of creating a coaching culture to create the right environment and mindset for success. I personally also work with individuals privately through 1-2-1 sessions, as well as host courses and events.
If you're looking for support to push you to become the best version of you and help you reach your potential so you can achieve your biggest goals, then keep reading on… It is important to establish a "coaching culture", which will help build the right culture and mindset internally, boost productivity and support workplace wellbeing. I offer packages from one-off training to full annual programmes. I've worked with amazing organisations such as Mind Federations, Clinical Commissioning Groups and recruitment giant Indeed… Let's see how we can work together.
I don't believe training is just a tick-box exercise, because done properly in a way that provides practical solutions and offers coaching like I do, you can start to make transformations. Training and coaching should provide tools and create ideas for now and the future.
ABOUT RORY HIBBLER:
Rory Hibbler is an Executive Assistant turned Chief of Staff who lives and breathes in the startup/scaleup SaaS world. Previous to her current position, she was the right-hand Exec Assistant to the CEOs of two early-stage technology startups, helping them build their companies to their first major round of funding. Currently, she is the Chief of Staff at ScaleUp Edge, a platform that provides resources and coaching to help grow ScaleUp companies. She enjoys mentoring Executive Assistants and first-time Chief of Staffs and building a community to help others rise in their careers. Rory resides in Austin, Texas, and loves to rock climb, cook, spend time with her dog Winnie.
BBO PA NETWORK EVENING FORMAT
7:20pm – Get 'Online' – Log on and get settled ready for a 7:30pm start, make sure you have your drink of choice in your favourite mug/glass!
7:30pm – Welcome and Introduction by Sarah & Marianne, BBO PA Network
7:35pm – Introduction to BBO Trusted Hotel Partner
7:40pm – BBO CSR Member of the Month #BBOCSRChampion
7:45pm – Keynote Speaker – Alice Dartnell 'Visualisation & Goalsetting for 2021'
8:15pm – Rory Hibbler, with her presentation 'Where to Go From Here – Transitioning from Executive Assistant to a Career in Helping Companies Grow'
8:35pm – Finish / 'After Show Catch Up' / Informal Networking – for those who would like to stay on and have a catch up!