BBO PA Network ONLINE – 19/08/2021 – Diversity & Inclusion
19 August @ 7:30 pm

-

9:00 pm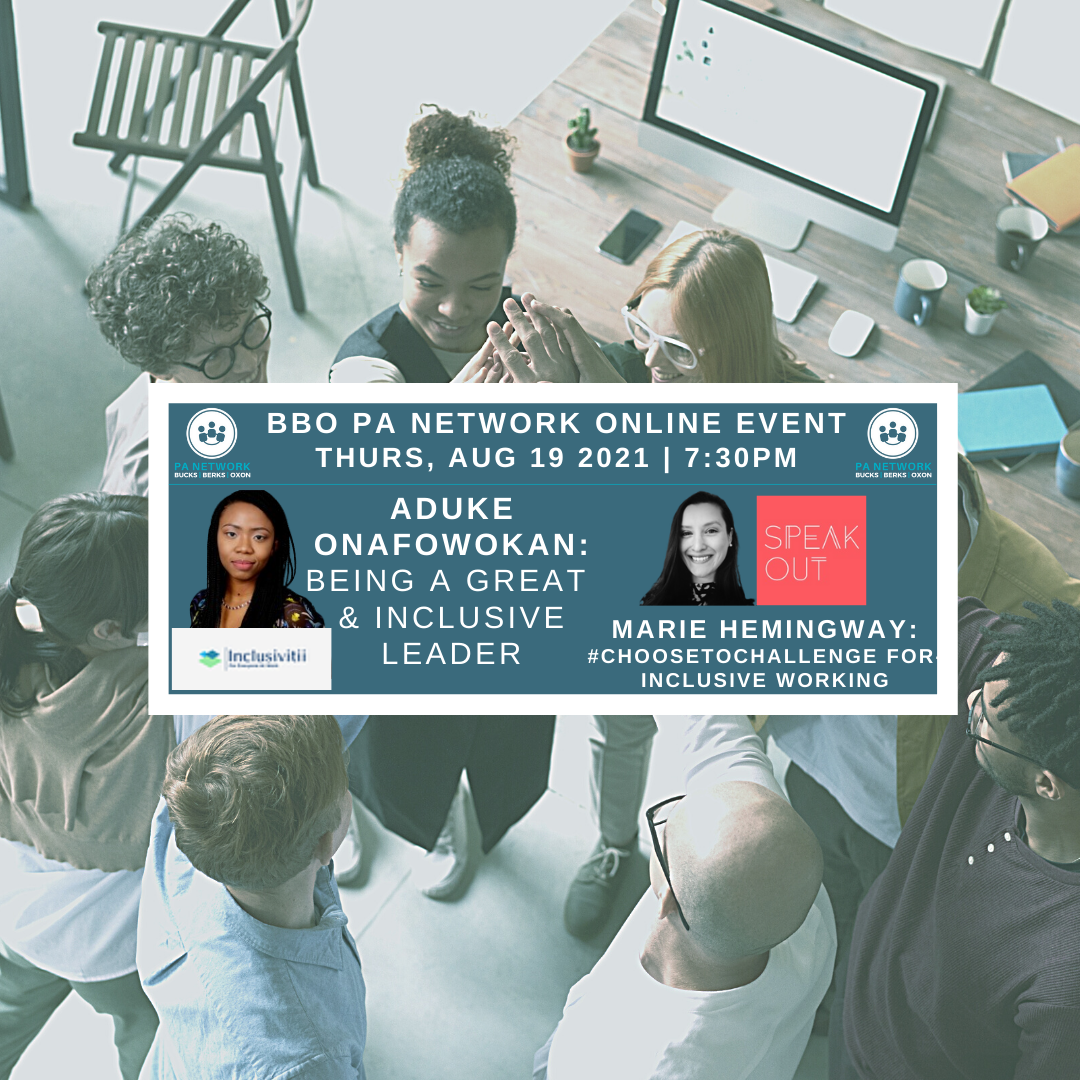 Join us for the evening as we welcome our two incredibly inspiring speakers: Aduke Onafowokan & Marie Hemingway
#BBOPANetwork
You are cordially invited to attend the Bucks, Berks & Oxon (BBO) PA Network's online event on Thursday, 19th August 2021 at 7:30pm.
We will welcome our two speakers for the evening:
Aduke Onafowokan: Global D&I Leader, Vice-chair Institute of Directors, Oxfordshire, Founder of The Sister Sister Network, International Speaker and Non-Exec Board Member
Aduke's session: 'Being a Great & Inclusive Leader'
Following careers in law and project management, Aduke Onafowokan launched Inclusivitii to plug the gap between DEI aspirations and tangible DEI change in organisations.
Combining evidence-based and research-led DEI insights with her vast experience in project and change management delivery, Aduke has a proven track record of initiating, designing, delivering, and improving measurable DEI progress across industries.
Aduke helps great leaders become great and inclusive leaders; she travels the world, working with diversity and inclusion stakeholders on practical ways to learn and improve inclusion, diversity, and leadership. With a clear focus on fostering an inclusive culture and improving representation and diversity to drive business growth, talent attraction, and social consciousness, Aduke's unique ability to provide psychological safety for learning around complex and sensitive themes has become her unique proposition in the DEI Industry. ​
An avid learner, Aduke has studied critical diversity and inclusion theories at leading institutions including Yale School of Management, INSEAD, and The University of Oxford where she is studying for a Master's Level degree in Organisational Leadership.​
As a public speaker, Aduke has delivered two TEDx Talks on Diversity and Inclusion, spoken at global events including BRANDMINDS and Sustainable Brands as well as at organisations including British American Tobacco, Amazon, Shell, Royal Mencap Society and many more.​
Aduke is also an award-winning social-entrepreneur through her work as the founder of The Sister Sister Global Network, a registered social-enterprise contributing to women's empowerment through the provision of accessible and empowering leadership and personal development capacity-building programmes curated for women at different stages of their leadership journeys.
In 2020, Aduke was appointed Head of Women's Empowerment at The International Youth Federation to oversee global gender programmes and was in 2021 appointed Vice-Chair Institute of Directors Oxfordshire. Aduke is currently writing her first book, The Act of Inclusion, and writes regular columns for Business Insider and other media outlets on Inclusion and Leadership.
Marie Hemingway: Award Winning Entrepreneur, Co Founder of Speak Out Revolution, Strategy Consultant, Board Member, Diversity & Inclusion Advocate, Speaker
Marie's session: '#ChooseToChallenge For Inclusive Working'
Marie is the founder of Speak Out Revolution, an award winning not-for-profit leveraging data driven insights to empower individuals and organisations to cultivate truly inclusive workplaces.
She leads a global team of volunteers harnessing the lived experiences of targets of workplace harassment & bullying to enable everyone to challenge the behaviours, processes and systems that fundamentally hold inclusion at risk.
Speak Out Revolution challenges individuals and organisations to be more inclusive through:
– Educational talks which share our unique insights
– Targeted workshops which mitigate the most prevalent challenges to inclusive working
– Professional training
– Business consulting to optimise organisational diversity and inclusion efforts
She's keen to apply her expertise in strategic investment decision making, digital transformation and organisational change to bring strategic, data driven insights to this societal problem that finds itself in our workplaces. Her mission if for every organisation to benefit from the innovative services and solutions that comes with a diverse workforce, and she wants every employee to feel valued, included and to belong.
BBO PA NETWORK EVENING FORMAT
7:25pm – Get 'Online' – Log on and get settled ready for a 7:30pm start, make sure you have your drink of choice in your favourite mug/glass!
7:30pm – Welcome and Introduction by Sarah & Marianne, BBO PA Network
7:40pm – BBO CSR Member of the Month #BBOCSRChampion
7:45pm – First Keynote Speaker
8:15pm – Second Keynote Speaker
8:45pm – Finish / 'After Show Catch Up' / Informal Networking – for those who would like to stay on and have a catch up!